USD
Forex
Gold
A Traders Playbook: The USD Finds Few Friends Ahead Of A Week Of Event Landmines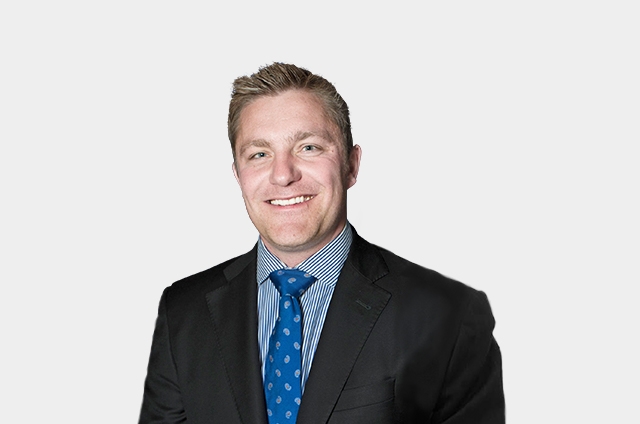 2023年6月9日
US equity continues to show resilience, with tech firing back up after a few days of traders booking profits.
The NAS100 saw a bearish daily reversal on Wednesday – which attracted attention from traders - but failed to close below the lows of 14,281, so the bulls have defended that with vigor. Subsequently, we look for new highs to play out.
(NAS100 daily)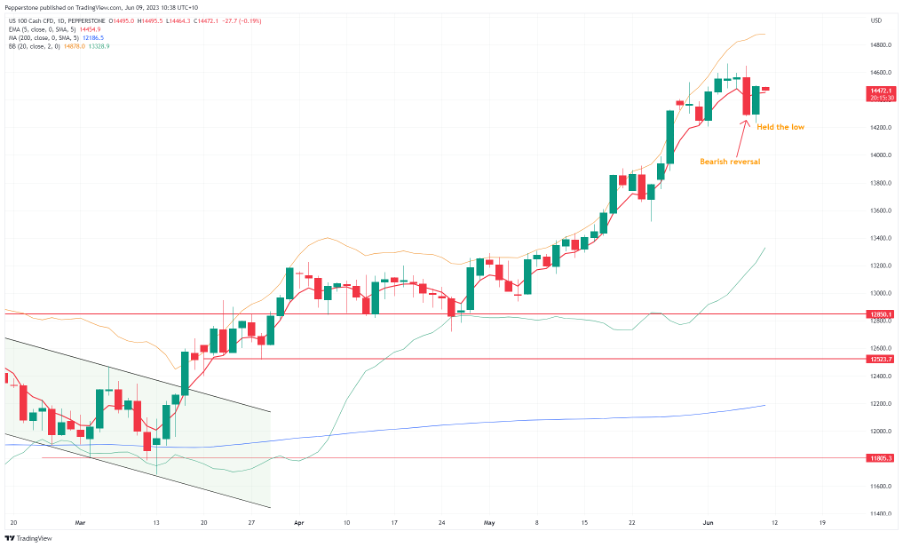 An imminent breakout in the US500
The US500 narrowly failed to print a bullish outside day, but the bulls have the upper hand and have their sights on a daily close above 4308 – if we can see Apple, Nvidia, Microsoft, and Alphabet fire up, then the index will have no issues breaching this resistance. Tesla remains the crowd favorite, and we see 10 straight days of gains, so momentum is strong, and we see the stock at +54% since the 27 April lows.
On the data side, US initial jobless claims printed 261k – the highest since Oct 2021 - and it certainly influenced markets. Jobless claims are the key forward indicator of the health of the US labor market, so this print got the bond bulls excited, and with yields lower across the curve, the USD has been offered.
How clients are seeing the FX markets
Interestingly, our aggregate client flow has turned very constructive on the USD, and traders are buying this period of weakness. The long/short skew looks most pronounced vs GBP, where 70% of open positions in GBPUSD are held short, and clearly, countertrend strategies are favored. The momentum traders out there would be taking the other side of that, with the price printing a higher high (on the daily) and looking for a move into 1.2600.
Our EURUSD flow is split 50/50 – where on the daily timeframe, we see price printing a higher high and eyeing a move to the bottom of the I-cloud at 1.0807. We look for next week's ECB meeting, and traders are now talking more openly about where the skew of risk sits here – we see a 25bp hike is all but assured, and the market is pricing another and final hike at the 27 July meeting.
AUDUSD has closed above .6700, having seen good range expansion in the session. The bulls will be holding as a swing trade for .6800, where we see momentum to their backs here. While more tactical/fundamental traders will keep a close vigil on copper and HK50 as an input for assessing the risk to the AUD, it's the HK50 that interests most, and a break above 19,461 should see 20k come into play soon enough.
Gold holding $1938 support
Gold – daily chart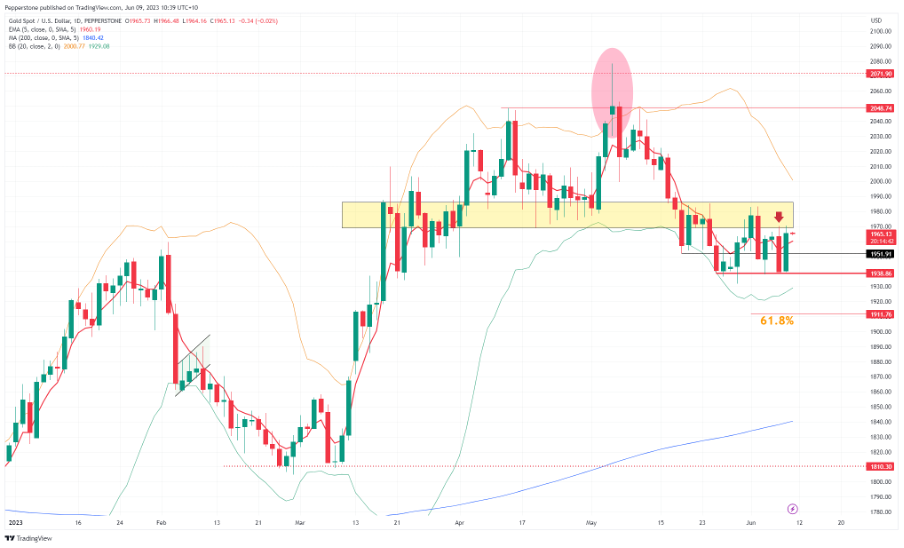 The weakness in the USD and decline in US bond yields have seen gold and silver reversing hard – XAUUSD has held the $1938 lows well and has pushed back into the supply zone – client flow is skewed short, which makes sense given the USD exposure. It's choppy, though, and I'd want to see a break of $1985 to give me any real view of a move above $2000.
It's a good time to focus on the week ahead – it's a blockbuster:
US CPI (13 June 22:30 AEST) – the market expects 5.3% YoY on core CPI (from 5.5%) and 4.1% (4.9%) on headline CPI – these views both match the Cleveland Fed Nowcast models. While core inflation remains a slow grind and would frustrate, and while base effects are an influence, Jay Powell must be feeling content that headline inflation has dropped from 9.05% in June 2022 to potentially 4.1% - it certainly warrants a pause to assess.
FOMC meeting and Jay Powell press conference (15 June 04:00 am) – the market prices 9bp of hikes (a 36% chance of a hike), while 84/90 economists call for a pause. The market is very much of the view that we do get a hike in July, although that will be conditional on the data flow – could we have seen the last of the hikes? See our preview.
ECB meeting (15 June 22:15 AEST) – the market expects a 25bp hike here, with additional focus on any support for EU banks as they repay the remaining PEPP loans to the ECB. The market sees one more hike after this meeting, so the statement's tone will need to marry to that pricing. See our preview.
EU CPI (16 June 19:00 AEDT) – the market sees EU inflation remaining at 6.1% YoY on headline CPI and 5.3% on core.
UK employment report (13 June 16:00 AEST) – the market prices 28bp of hikes for the 22 June BoE meeting and 100bp of hikes cumulative by December. The jobs report may see some tweaking of these expectations.
China monthly data series (15 June 12:00 AEST) – the market looks for industrial production of 3.8% YoY, retail sales at 13.9%, and fixed asset investment at 4.4%. With the market recently hearing of various stimulus measures could, bad news on the data front accelerates the need for more measures and prove to be good news for risky assets.
Aussie employment report (15 June 11:30 AEST) – the market eyes 15k net new jobs and the unemployment rate at 3.7% - the markets prices 10bp of hikes for the July RBA meeting (a 40% chance of a hike), so this data could influence. Perversely, good news on the Aussie labor front is almost certainly bad news for ASX banks –
Other data worth putting on the radar – US NFIB Small business optimism (13 June 20:00 AEST), US PPI (14 June 22:30 AEST), US retail sales (22:30 AEST).
此处提供的材料并未按照旨在促进投资研究独立性的法律要求准备,因此被视为市场沟通之用途。虽然在传播投资研究之前不受任何禁止交易的限制,但我们不会在将其提供给我们的客户之前寻求利用任何优势。
Pepperstone 并不表示此处提供的材料是准确、最新或完整的,因此不应依赖于此。该信息,无论是否来自第三方,都不应被视为推荐;或买卖要约;或征求购买或出售任何证券、金融产品或工具的要约;或参与任何特定的交易策略。它没有考虑读者的财务状况或投资目标。我们建议此内容的任何读者寻求自己的建议。未经 Pepperstone 批准,不得复制或重新分发此信息。