RBA
AUD
RBA surprise and China uplift: The (almost) AUD nirvana backdrop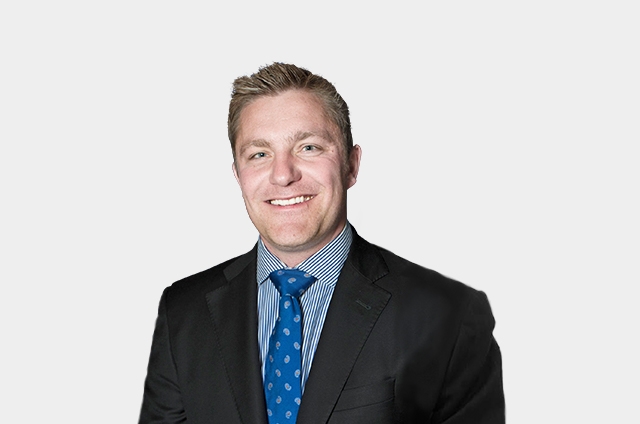 7 jun 2023
The RBA has now 'surprised' the market with 2 back-to-back rate hikes, which were both priced at a 30% probability or below. Essentially, the RBA has injected a level of policy uncertainty greater than any other G10 central bank.
We also see its hawkish forward guidance maintained with "some further tightening of monetary policy may be required". So, the question is how much pain the Aussie economy must endure before demand is sufficiently impacted to put inflation firmly on the path to the target.
AUD supported by a confluence of factors
One of the beneficiaries of the RBAs hawkish guidance is the AUD, and it's been on a roll – where the fundamentals have offered an almost perfect storm for AUD appreciation.
We've seen iron ore futures +17% since the 26 May lows, and copper has lifted from $3.54p/lb. to $3.77 p/lb. The HK50 index was in a bear market but has now rallied 7% off the lows. A reversal and a stronger yuan would have been helpful (for AUD longs), but we've seen USDCNH pushing higher and looking for a break of 7.1500.
On the rates front, we see interest rate differentials also a factor in AUD appreciation. While we can see some uplift in market expectations for the immediate months ahead, it's the aggression by which the market has repriced cuts over the next two years that have really hit home.
Looking at the pricing of 2-year forward rates, we see that while expectations of near-term hikes have increased, it's the level of expected rate cuts that have been more aggressively priced out of the Aussie rates market that has been at play.
For example, on 26 April, the central case of the market was that the RBAs cash rate would be 128bp (5 cuts) lower this time in 2 years. The re-pricing has taken the level of expected cuts over the next 2 years to just 34bp.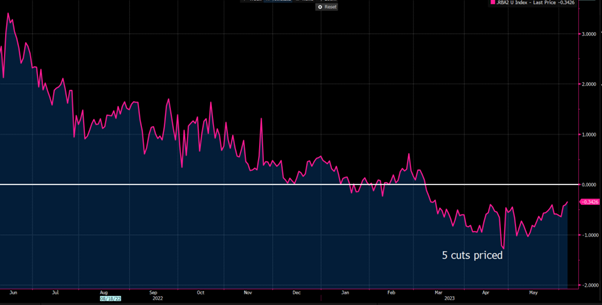 Rate cuts have also been walked back in other G10 countries, as we see below. However, when we contrast Aus 2yr forward rates to that of USD, EUR, NZD, and GBP (see below - in order), we see just how aggressive this move has been on a relative basis. This has proven to be a real tailwind for the AUD.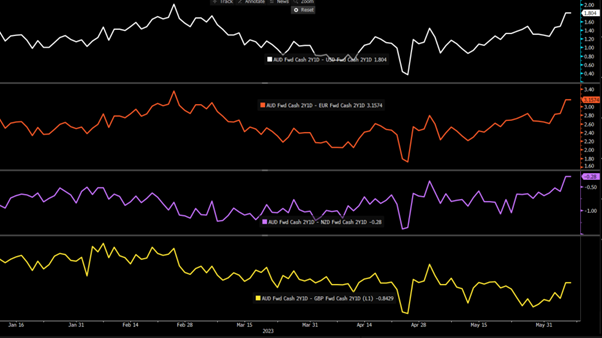 Moves in ASX200 equity; Shorting banks has worked well
If the move-in rates are a tailwind for the AUD, it has been problematic and a sizeable headwind for the interest rate-sensitive parts of the Australian equity market.
Shorting Aussie banks have worked well really since early February, where competition has had to intensify to attract deposits, while higher funding costs have promoted a war on mortgage pricing. Consequently, net interest margins are to decline, and Westpac has already stated they have seen a rise in 30-day delinquencies.
While would-be buyers step away, the speculative fraction of market participants senses this and gets more traction shorting equities that are bear trending. Traders can operate banks tactically, either as part of a long/short approach or as an outright directional trade against lower net interest margins and earnings.
What comes next? Are rates still too low?
With the market now having discounted much of the expected future RBA policy setting, the question is what happens next for RBA policy. Can we reach a point where the market fully prices out cuts for the coming 2 years altogether?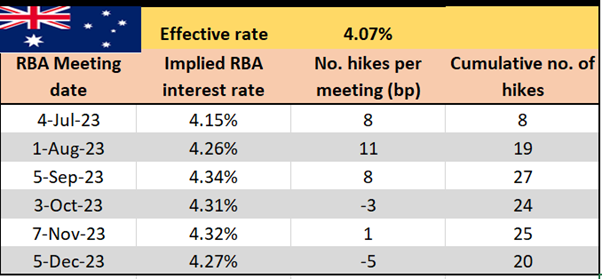 Shorter-term, with 8bp of hikes priced for the July RBA meeting (a 32% chance of a hike), is this again priced too low? We see the peak RBA cash rate expectations of 4.34% by September; should this be priced closer to 4.6%, maybe even 5%?
To answer this, we will watch a combination of broad financial conditions, global economic trends, domestic auction clearance rates and anecdotes on credit demand. However, of the known data points, we look for:
13 June Westpac consumer confidence / NAB business confidence.
15 June - May employment report
28 June – May CPI report
29 June – Retail sales
3 July CoreLogic House price index
4 July – RBA meeting
26 July – Q2 CPI
15 August – Wage Price Index
For now, especially on the higher timeframes, the wind is to the AUD's back, and we see key technical breakouts vs GBP, EUR, and JPY, with AUDNZD having been on a one-way rampage. AUDCHF is eyeing a break of its range higher, having rallied from 0.5867, where a daily close could set the pair on for the double-bottom target of 0.6230.
The time for shorting the AUD (on the higher timeframes) will come soon enough, but until China turns lower and rates look fully priced, the skew in risk that for more upside in the AUD.
Pepperstone no representa que el material proporcionado aquí sea exacto, actual o completo y por lo tanto no debe ser considerado como tal. La información aquí proporcionada, ya sea por un tercero o no, no debe interpretarse como una recomendación, una oferta de compra o venta, la solicitud de una oferta de compra o venta de cualquier valor, producto o instrumento financiero o la recomendación de participar en una estrategia de trading en particular. Recomendamos que todos los lectores de este contenido se informen de forma independiente. La reproducción o redistribución de esta información no está permitida sin la aprobación de Pepperstone.