Trading
Pros and cons of CFD trading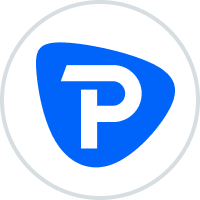 25 May 2023
If you're serious about trading, it won't take long before you'll come across the term 'CFDs'. But most people don't know exactly what CFDs are or how they work. We've unpacked answers to seven not-so-dumb questions about CFD trading, and their answers, to get you up to speed.
Weighing the pros and cons of trading CFDs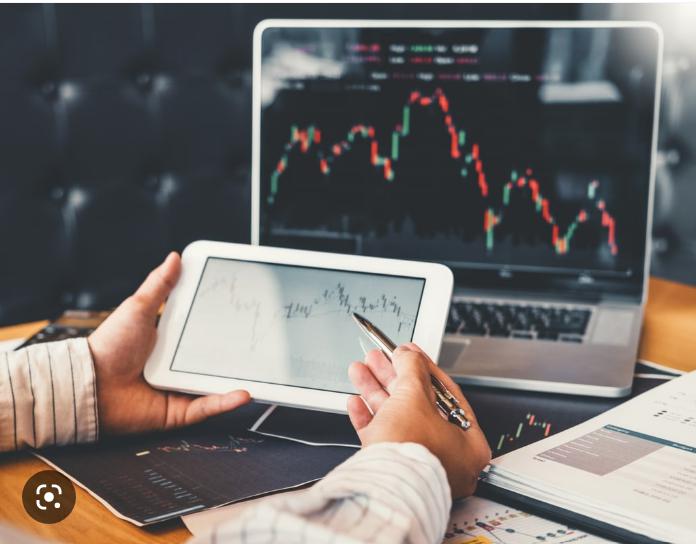 1. What are CFDs exactly? And what's CFD trading?
CFDs are financial derivatives – a form of trading that allows you to speculate on the future direction of an asset. They are available across a variety of asset classes, like forex, commodities, equities and more.
'CFD' stands for 'Contracts for Difference' and are a type of financial derivatives. The way that they operate is that you as the trader will enter into a type of contract with your broker, to exchange the difference in your trade's price from start to finish of the position – whether that difference is a profit or a loss.
In other words, with CFDs you're speculating on your CFD asset's price movement in between the opening and the closing of your position – and agreeing to exchange money based on that amount.
If you predict correctly and the market moves in your favour – however much it moves – you'll earn that difference in the form of a profit. If the market moves against you instead, you'll forfeit the amount the market has moved as a loss.
Spoiler alert: CFDs are one of the biggest forms of trading worldwide
CFDs have been around for quite a while. By the end of the 90s, the internet was a part of daily life and CFD trading had gone mainstream. CFDs were now available on trading platforms and with trading brokers and were so popular that they were traded worldwide.
In fact, to this day, CFD trading is available in most countries, with a few exceptions like the United States, Belgium and Hong Kong, where CFD trading is illegal.
2. The advantages – why do people trade CFDs?
CFDs are traded around the world every day because they're a powerful way to capitalise on your knowledge of financial markets, to hopefully make a profit (or possibly a loss), while often paying far less upfront than you would to invest in that same market. Here are the specific pros to trading CFDs:
Access to lots of markets: With CFD trading, you're able to place long and short positions on hundreds of underlying assets' markets like forex pairs, stocks, indices, commodities like gold or crude oil, cryptocurrencies and much more
Flexibility: You can make a profit (or a loss) whether the market goes up or down in price. That's due to the fact that you can go long or short sell when trading CFDs, with short selling in particular allowing you to make money (or make a loss) even if your asset drops in price
No ownership: All this is because you're not purchasing the underlying asset itself, like an investor would, instead you're trading on a market that derives its value from that underlying asset – which means you don't have to take ownership of anything, you're just speculating on its value
But arguably the biggest reason of all that people choose CFDs is because of leverage. Leveraged trading allows you to trade using a margin, rather than the full amount of a trade, which means it'll cost you far less to open a position when CFD trading as it would to invest in a position of the same size
Because of this, you can get far more profit – or far more loss – out of a smaller amount of money with CFDs
Understanding leverage
Leverage is CFDs' superpower, and it's a potent feature of Contracts for Difference. Leverage is an aspect of derivatives (CFDs are a type of these) which means that, when you trade on leverage, you won't pay the entire value of your trade upfront. Rather, you'll make a kind of down payment, called margin, which is a percentage of the full trade size, to open the trade, basically 'borrowing' the rest from your broker.
For example, if the margin rate of a CFD trade was 20% and you decided to open a position worth €1000, that would ordinarily mean you paying the full €1000 in order to trade. But because you're trading on leverage, you only need to pay €200 in order to open a €1000 position. That is a 5:1 leverage ratio, meaning you can open positions five times bigger than your margin amount.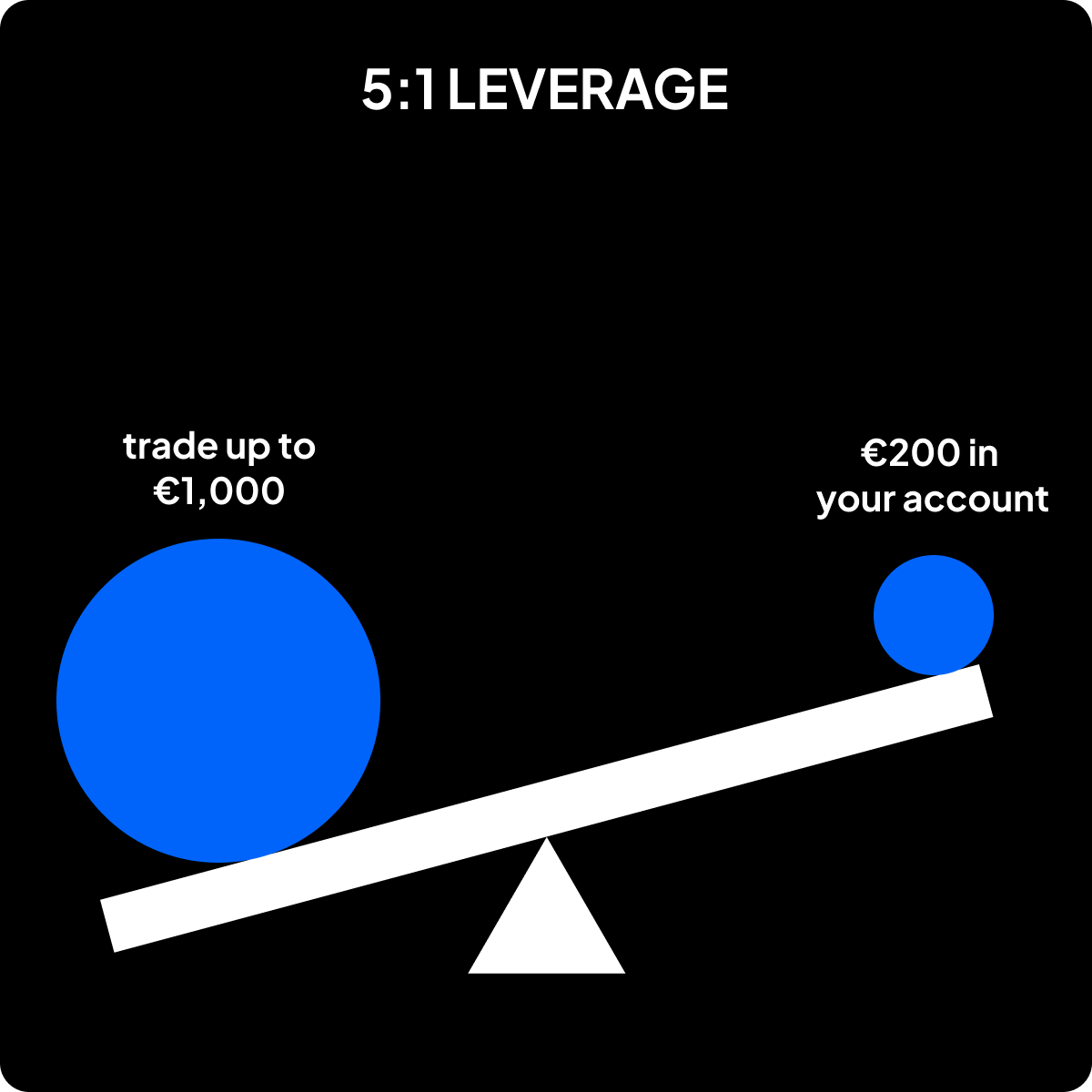 Another feature of leverage is that your profits and losses are calculated based on the entire position's value, not whatever it cost you to open the position. So, if you paid a €200 margin rate to open a €1000 trade, your profit or loss would still be calculated according to the full €1000. This means you could earn five times more than you paid – but it also means you could lose five times as much too. While reputable brokers in most countries are required to have negative balance protection, meaning you'll never lose more than is in your account, there's still a chance that your losses can and will be more than your margin cost.
3. The downside – why is it risky to trade CFDs?
There are plenty of risks you face when you trade with a complicated complex instrument like CFDs. These include:
A high risk of loss – which could be far higher than the amount you paid to open your trade in the first place, because of leverage. While we have negative balance protection to stop you losing more than you have in your account, you could still lose up to that amount
This means that you could potentially lose a lot more money trading with CFDs than you could when investing. When you buy an asset, you can only ever lose the amount that you paid for it – but that's not the case with CFDs. Here, losses could significantly outnumber your margin requirement
When trading CFDs, you also face the danger of counterparty risks – when someone in a financial contract defaults on the agreement or its terms. This is one of many reasons why it's important to use a regulated, financially healthy and accredited broker that properly screens and protects their clients
4. But how do CFDs work specifically?
CFDs work much like other forms of trading, with a few key differences. Just like with other types of trading, you would be using an online platform and broker (like us) to speculate on the direction of a financial market that tracks an underlying asset, such as gold, oil, a forex currency pair, an index, a cryptocurrency or a share price. So, instead of purchasing the underlying asset to make a potential profit by selling it later at a higher sell price, you're instead simply predicting its future price without purchasing the underlying asset.
The way that this works with CFDs is that you'll either go long if you believe the market's price will rise, or be short-selling if you think it'll drop in value instead. If you're right, you'll earn a profit.If you're wrong, you'll make a loss instead.
CFDs at work: a practical example
CFDs are traded in contracts, which you'll use to speculate on your chosen market. But let's use an example to see CFDs in action. Picture this: You're a trader who follows the price of gold. You believe that the price of gold will go up. So, what you do is, you log onto your favourite Pepperstone platform and decide to go long by buying 10 contracts, which are valued at €10 each, when the gold price is at $2030.,05/oz.
The gold price does indeed go up, and it's sitting at $2040.05/oz when you decide to close your position – a difference of 10 points. This means that your profit is calculated by multiplying the 10 points' difference by €10 for each of the 10 contracts.
Profit = €1000.00 (€10 x 10 points' difference x 10 contracts)
The same would have held true if you'd been incorrect in your prediction. If the price had instead dropped below $2030.05/oz to $2025.00/oz when you closed your trade, that's a difference of 5.05 points. You'd then have made a loss of €505.00 instead.
Loss = €505.00 (€10 x 5.05 points' difference x 10 contracts)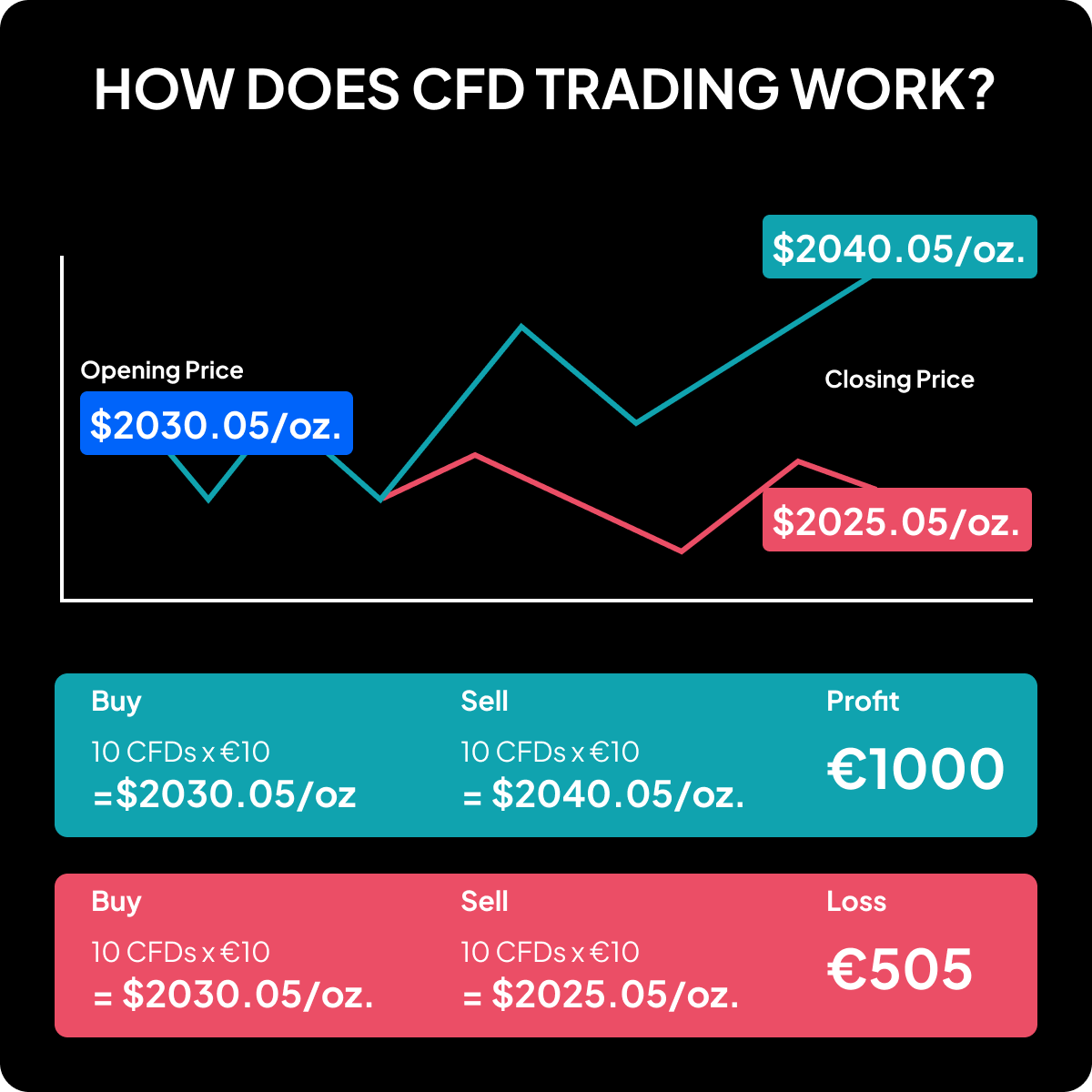 5. What trading strategies can be used with CFDs?
One of the great things about CFDs is that they are versatile trading tools that you can use with most trading strategies. Whatever your trading style and the techniques, indicators and types of market analysis you prefer to use, you're pretty much guaranteed to be able to use CFDs for it.
If you're still trying to determine what the best CFD trading strategy for you is, here are some of the most popular ones with other traders.
Technical analysis CFD trading strategies
If you use technical analysis in your trading strategy, it means that you rely on reading a market's chart and data, as well as technical indicators available on that chart, in order to make your trading decisions. CFD traders use these for the following strategies, among others:
A trend trading strategy – aiming to make a profit from correctly anticipating a trend in the market and trading it, using charting tools and other aids
Scalping strategy – using extremely short-term trades, usually just minutes or seconds long, to capitalise on fluctuations and volatility on a chart within a very short timeframe
Range trading – using a chart's support and resistance levels to determine when to open or close a position within that 'range', in accordance with your trading plans
A breakout or false breakout strategy – using indicators and other tools to try and determine when a true breakout or false breakout will occur in a market, with the aim of trading it
Fundamental analysis CFD trading strategies
While technical analysis looks at the data of what is happening on the charts in isolation, fundamental analysis considers the macroeconomic by looking at the 'why' of the markets instead, focusing on whatever headwinds or tailwinds your underlying asset's market faces in the grander scheme of things. Some of the strategies used here are:
Researching major macroeconomic elements that affect the wider market, like for example current interest rates and the level of inflation, or the employment data in the sector or industry related to the market you're thinking of trading
News trading – hoping to be the first to get in on a new market movement, trend or opportune moment of volatility by having a thorough knowledge of what's going on in the news and how it impacts the markets
Swing trading – fundamental traders often have more longer-term trading styles and time frames than technical analysis devotees. Swing traders aim to keep positions open for a day or even a few days in order to ride out a larger trend in a market, using fundamental analysis of the drivers of that market
6. How do I start CFD trading? What are the first steps?
Choose a reputable broker and trading platform that offer CFD trading
Create an account with them to get started
Research and choose a market you'd like to trade on using CFDs – like stocks, forex, gold, cryptocurrencies or more
Form a CFD trading strategy
Open your first CFD live trade
Set up stop loss and take profit orders to maximise your risk management
Observe your trade's progress and close the position when you're ready
7. What are some best practise tips for starting off CFD trading right?
More than 70%Between 74% and 89%of traders typically lose money, rather than gain it, when they first start trading CFDs. Here are some of the more common mistakes to avoid when CFD trading, for when you first begin:
Not understanding exactly how profits and losses in CFD trading are calculated
Beginning trading too quickly, before you've done thorough research of your chosen CFD market
Not having an adequate trading strategy in place, complete with the goals you want to achieve and when
Not having stop loss and take profit ordersin place, as well as other forms of risk management
What the pros think: expert advice on CFD trading
CFDs are complex trading instruments and it can be difficult to get the hang of them at first. That's why we've called in the pros – have a look through some of our expert guides on specific types of CFD trading, as well as general tips and hacks to trade successfully:
What's margin and leverage in CFDs?
Frequently Asked: Answers to other common questions about CFD trading
What is CFD trading? What does 'CFD' stand for?
CFD stands for Contracts For Difference, meaning that they're a type of contract you're entering into between yourself and your financial broker, as well as the asset's other buyer or seller you're matched with in the trading platform, to exchange the difference in your chosen financial asset's price during the time of your trade.
Is CFD trading good for beginners?
CFDs are complex financial instruments that require careful study of both the market and CFDs themselves. Once you know what you're doing, trading CFDs can be easy and user-friendly even for beginners. Plus, thanks to their leverage, they can be a powerful tool for beginner traders – but leverage also makes CFD trading risky. So, CFDs can be good for beginners – but only if that beginner is willing to put in the work finding out exactly how CFDs work.
Can I trade CFDs in my country?
Unlike some other types of trading, for example spread betting, CFDs are widely available throughout the world. Just some of the countries that offer CFDs are the United Kingdom, Canada, most of Europe, Australia, Japan, South Africa and some other African countries – although notably the USA is not one of these. To find out if CFDs are readily available and legal in your country, contact your local financial services authority.The three main exceptions are USA, Belgium and Hong Kong, where CFD trading is illegal.
Learn more about CFDs Learn more about spread betting
Conclusion: key CFD takeaways
CFDs, which is short for Contracts for Differences, is a form of trading that you can use to speculate on various markets like forex, gold, share prices and more
CFDs are a form of leveraged trading, meaning you'll put down an initial payment called margin, worth a fraction of your position size, to open that position
With leverage, you can open positions 100x larger than the amount of your margin requirement – or even more – with both profits and losses being calculated on your whole trade size
While this means the potential for far more profits with less initial cost as an upside, the downside is that any losses you make can far exceed your margin – and as much as 70% or more 74% to 89%of beginner CFD traders lose money
The material provided here has not been prepared in accordance with legal requirements designed to promote the independence of investment research and as such is considered to be a marketing communication. Whilst it is not subject to any prohibition on dealing ahead of the dissemination of investment research we will not seek to take any advantage before providing it to our clients.

Pepperstone doesn't represent that the material provided here is accurate, current or complete, and therefore shouldn't be relied upon as such. The information, whether from a third party or not, isn't to be considered as a recommendation; or an offer to buy or sell; or the solicitation of an offer to buy or sell any security, financial product or instrument; or to participate in any particular trading strategy. It does not take into account readers' financial situation or investment objectives. We advise any readers of this content to seek their own advice. Without the approval of Pepperstone, reproduction or redistribution of this information isn't permitted.