Indices
Trading
How to trade indices on MetaTrader 4: a comprehensive guide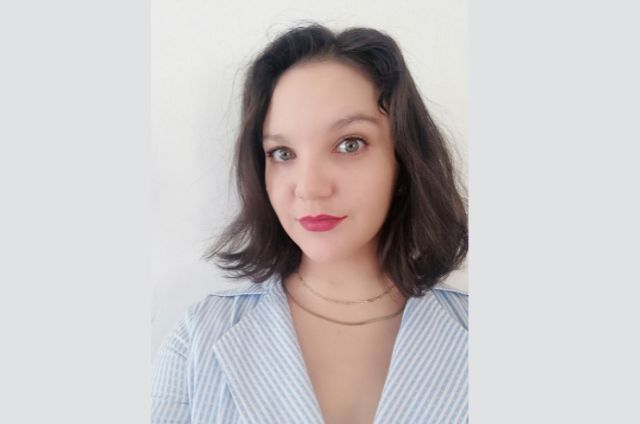 2 giu 2023
Index trading is one of the biggest ways for traders to gain broad exposure to stocks, diversify and spread their risk, as well as speculate on the broader market with just one position. You can trade the world's most popular indexes on the MetaTrader 4 platform at Pepperstone, but how exactly do you trade indices on MT4? Find out in this guide.
What are indices and why trade them?
An index is a collection of stocks, all grouped together into one asset that you can trade. Some popular examples include the FTSE 100, the Dow Jones Industrial Average and the S&P 500. They'll often have a characteristic in common – for example, all the biggest UK stocks by market capitalisation (as in the FTSE 100) or predominantly tech stocks (as in the Nasdaq).
For this reason, indices are popular for empowering traders to be able to speculate on an entire industry, sector or theme of stocks with just one position. This gives you broad exposure to what you want to trade on without having to open tons of different positions. It also diversifies that exposure across the index's stocks, which means managing your risk at the same time.
Some of the most famous indices in the world include:
The S&P 500 – A broad index of the 500 biggest companies traded in the United States, across various sectors, by market capitalisation
The Dow Jones Industrial Average – Also called the Dow Jones and the Dow for short, these are the 30 most traded on the New York Stock Exchange and the Nasdaq stock exchange
The Nasdaq 100 – The top 100 stocks housed on the Nasdaq stock exchange, based on a modified market capitalisation weighted calculation
The FTSE 100 – The biggest stocks on the United Kingdom's FTSE stock exchange, by market capitalisation
The ASX – The top listed stocks on the Australian stock exchange by market cap
The DAX 30 – The 30 biggest stocks on the German stock exchange, by market capitalisation
The Nikkei – A price-weighted index of the best-performing stocks on Japan's stock exchange
The Russell 2000 – Roughly 2000 of the best-performing small-cap stocks in the United States, by market cap
The Hang Seng – The largest 50 stocks housed on the Hong Kong stock exchange, by market cap
The CAC 40 – The 40 biggest stocks on the Paris stock exchange, by market cap
The VIX – The better-known name for the Chicago Board Options Exchange's Volatility Index. This doesn't house specific stocks, but rather is a benchmark of the volatility of the S&P 500 index, aiming to also be an indicator of volatility in the US stock market as a whole
Understanding MetaTrader 4
But here's the thing about MetaTrader 4 - it's not your average trading platform. In fact, it's one of the most popular ones out there. Despite being around since 2005, MT4 still holds its ground for many reasons. It packs a punch with automated trading features, customizable charts, a big variety of technical analysis tools, and a user-friendly interface once you get the hang of it.
If you've had an MT4 account with a different broker before, you wouldn't need to familiarise yourself again with it.*
Setting up an MT4 account for index trading
In order to use MT4 safely, you need a trustworthy broker that is financially stable and regulated, like Pepperstone. So, one way to get trading with MT4 is to simply open a live account with us.
Once your Pepperstone trading account is created and funded, you'll go to our MetaTrader 4 platform page and download MT4 – either onto your computer, or via the app store for mobile trading on your phone.
When downloading MT4 from us, you'll do that via our secure client area. You'll then be prompted through the download process, and once your platform has loaded, you'll be asked for your account number, password and server name. This is in order to connect MT4 with your Pepperstone trading account.
Want to learn more about trading indices on MT4? Try our Getting Started with MetaTrader 4 course.
How to navigate the MT4 platform when trading on indices
Step one: Navigate to your Market Watch.. This will either be open already in your platform window or can be accessed by pressing the Market Watch icon:
This will bring up the underlying assets or markets that have been added to your 'watch list' already.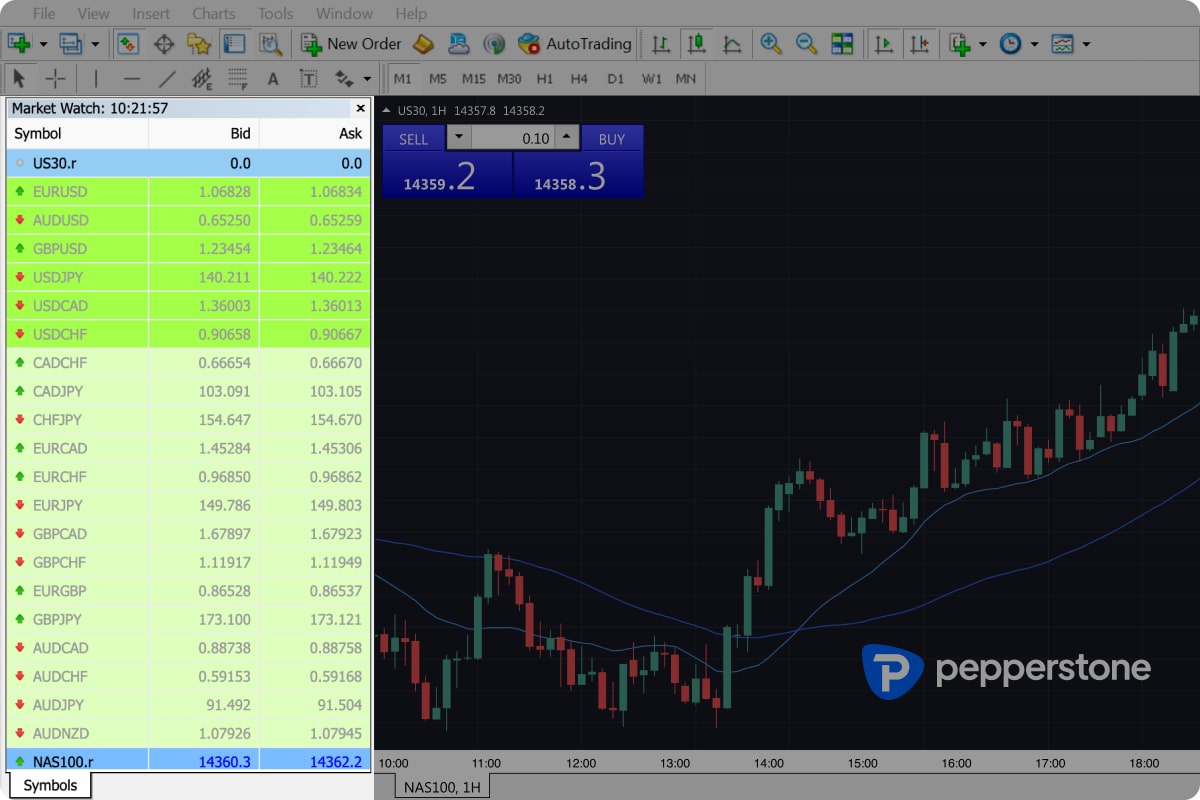 Step two: The Market Watch tab should now bring up a list of markets' symbols on the left-hand side of your display. Right click anywhere here and, when this right click brings up a list, scroll down to 'Symbols' and left click on this.
Step three: This will bring up the symbol names of all the markets you can trade with Pepperstone on MT4, including Indices. Scroll down to indices and find the name of the index you're looking for.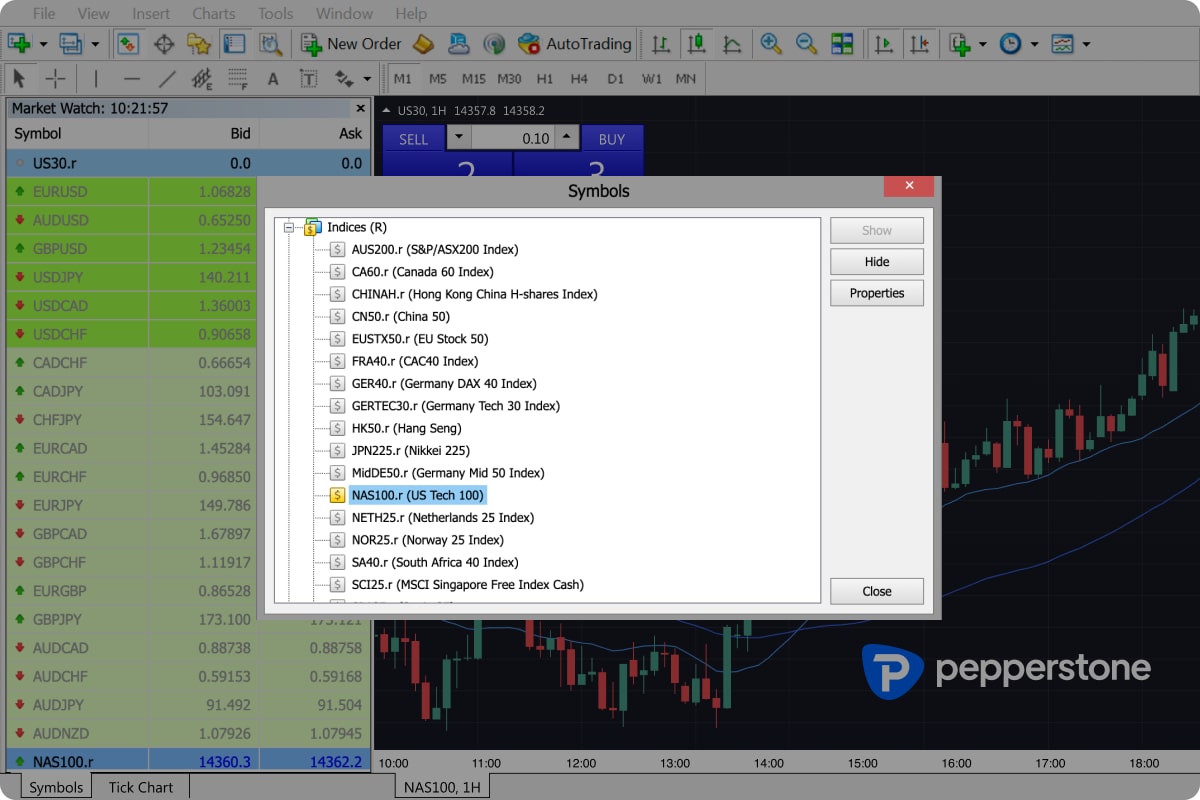 Step four: When you get to this point, all the indices that you already have on your Watch List will be highlighted yellow. Find the symbol name of the one you'd like to add and simply double click on it. That index will now be highlighted yellow too – a sign that it's been successfully added to your Market Watch.
Step five: Once this is done, click on the index you're wanting to trade in your Market Watch list and drag it to your main window. This will open that market's trading chart, so you're now ready to trade that index.
Strategies for trading indices on MT4
There are almost as many trading strategies out there as there are traders – and each one needs to be customised to your unique trading goals, risk appetite and trading style. But there are strategies that lend themselves particularly well to index trading and the MT4 platform, and those less suited to it. Here are some of the more popular MT4 index trading strategies used:
Trend following
All markets have trends, where its underlying asset is bought more and more, then is overbought, trends downwards, is eventually oversold and normalises. A trend following or trend trading strategy aims to utilise this, identifying an index's trend and riding it, going long if the index is trending upward and short selling if it's trending downward.
MetaTrader 4 has many tools on the platform specifically designed for trend trading. These include trend lines (and drawing your own trend lines), moving average indicators (the most well-known of these is the MACD) and Bollinger Bands to determine the direction of a trend, as well as tools like the Relative Strength Index (RSI) tool to determine the strength of that trend.
This means MT4 offers trend traders plenty of helpful aids to work with in 'fading' trends, which indices certainly get. They can even be combined with fundamental analysis to use things like news events to determine when strong market sentiment-led trends will manifest in indices – which are often the first asset class to be affected by major macroeconomic moves.
Breakout trading
A breakout trading strategy involves entering into trades when price breaks above or below previously established support or resistance levels – or at least trying to. Alternatively, you can also use the strategy by trying to identify false breakouts and short-selling them.
This means studying your index until you've identified a potential breakout point, being patient and waiting for the right conditions. Before entering the trade, you would first analyse the chart and identify any potential points of resistance that may affect your intended direction of trade. Once you've done this, you will be able to place your stop loss order near one of those points in order to potentially protect your capital if the trade fails. This will allow you to take advantage of breakouts while mitigating risk. You'll also need to use technical analysis tools such as support and resistance indicators in order to determine the strength of the breakout before entering into a trade.
A breakout strategy pairs well with index trading as it's very tied to market sentiment, as are indices. The MT4 platform, also, has several tools and chart indicators that help you do technical analysis to confirm a breakout, including Bollinger Bands, the MACD indicator and the RSI.
Mean reversion trading
Mean reversion trading, otherwise known as trading reversals, involves identifying the current trend of the index and then entering into trades when the index's price reverses against that trend. Using a mean reversion trading strategy on an index can be an effective way of capitalising on potential reversals in price movements – something which every market does.
To do this, you should first study the chart using technical analysis and identify the index's chart 'mean' and any clear trends or otherwise if it's a range-bound market. That might look like watching for overbought and oversold signals which indicate when a reversal may occur. When these levels are reached, you'd likely enter into a counter-trend trade and 'ride' or 'fade' the retracement as a trend.
All markets experience retracements – and indices may experience more than most, in that they're heavily influenced by market sentiment. And MT4 offers technical analysis tools like the Stochastic Oscillator and drawing tools, which help identifying your index chart's average range, and also the RSI and MACD indicators again.
Want to find out more? Discover how to trade on equity indices with expert market analyst and trade specialist, Chris Weston, Pepperstone's Head of Research.
Here are some other links for further learning on both indices trading and getting the most out of MetaTrader 4:
Trading indices with Pepperstone
Conclusion
An index (the plural being indices) is an assortment of companies' share prices to trade on, all combined together into a single tradable asset. Meanwhile, MetaTrader 4 (MT4) is a platform to trade on – and is actually one of the most popular trading software systems in the world
Both the asset class indices and the MT4 trading platform are offered by Pepperstone
You can use a number of popular strategies with index trading on MT4, including fading the trend, breakout trading, reversal or mean reversion trading and more, thanks to MT4's chart tools
Certain habits are important for index traders to develop if they want to maximise their chances of success and minimise their chances of loss. These include keeping up to date with the news, using risk management tools like stop and take profit orders and having a clear trading plan
Pepperstone non dichiara che il materiale qui fornito sia accurato, attuale o completo e quindi esso non dovrebbe essere considerato come tale. Le informazioni qui fornite, da parte di terzi o meno, non devono essere considerate come una raccomandazione, un'offerta di acquisto o vendita, la sollecitazione di un'offerta di acquisto o vendita di qualsiasi titolo, prodotto o strumento finanziario o la raccomandazione di partecipare a una particolare strategia di trading. Consigliamo a tutti i lettori di questi contenuti di informarsi in maniera indipendente. Senza l'approvazione di Pepperstone, la riproduzione o la ridistribuzione di queste informazioni non è consentita.