Trading
How to trade on Chat GPT's AI revolution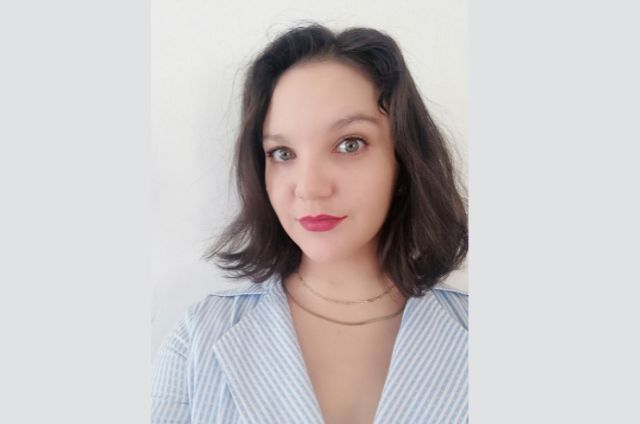 2 Jun 2023
ChatGPT seems to have truly ushered in a new tech revolution, with traders and investors everywhere wanting to get exposure to the AI space. But how to gain exposure to the AI revolution when you can't trade on ChatGPT? We have a few ideas for you below.
On 30 November 2022, OpenAI launched chatbot ChatGPT. As AI continues to impact numerous industries – and ChatGPT continues its journey to become the fastest-growing consumer app ever – traders and investors have looked for ways to capitalise on the technology's potential. But how does an ordinary trader get in on the action?
How can I trade on Chat GPT and the AI revolution?
ChatGPT is owned by small company OpenAI Inc. which isn't a publicly traded company as yet. So, trading directly on OpenAI is impossible at this point, since the company isn't listed on an exchange. However, traders and investors can still gain exposure to the AI sector in different ways.
Three ideas on how to trade on the ChatGPT revolution:
Disruptive AI-focused ETFs
AI companies associated with ChatGPT
Tech companies linked to AI's future infrastructure
1. Disruptive AI-focused ETFs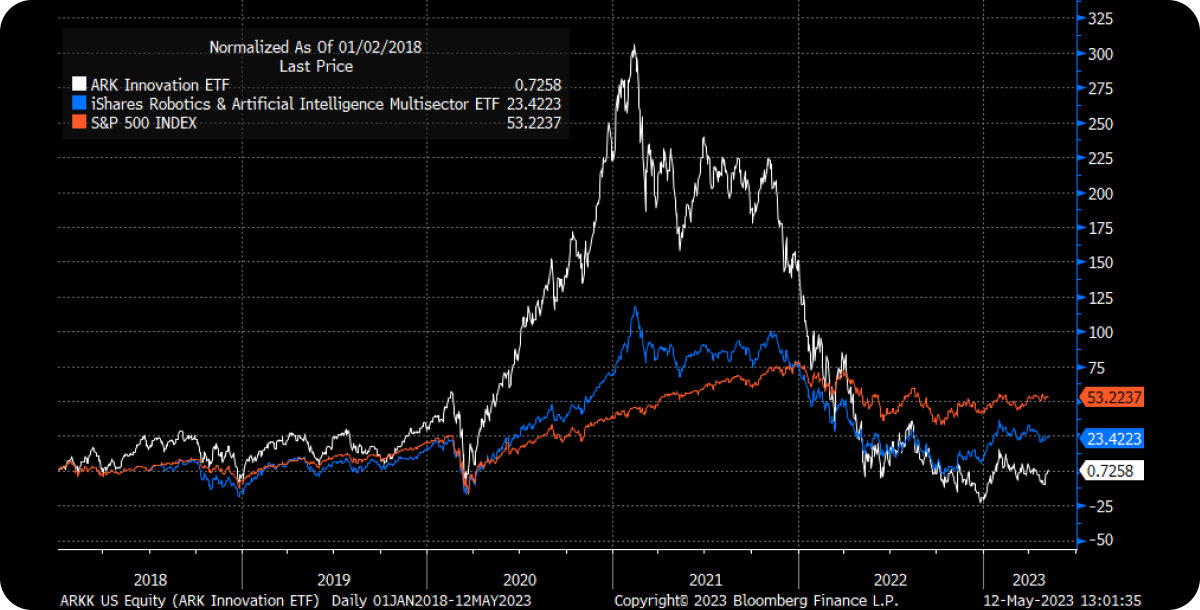 Exchange Traded Funds (ETFs) are a type of instrument that give investors and traders the ability to get exposure to a number of similar companies within one thematic 'basket' of stocks. For example: AI companies disrupting the tech industry. This means diversified, broad exposure to a wide range of shares' prices, which is less risky than trading on a single share price.
Appropriately enough, ETFs are often automated, passively managed funds – meaning there isn't a human investment fund manager driving them. And, while you can invest in ETFs, you can trade on them too.
ARK Innovation ETF
ARK Innovation ETFs are a series of exchange-traded funds actively managed by ARK Investment Management LLC. These ETFs are focused on investing in companies that are expected to disrupt their respective industries through innovative technologies and business models.
The ARK Innovation ETFs provide investors with access to a diverse range of companies leading the chatbot charge. Among these are Amazon, Alphabet (Google's parent company), Microsoft, Salesforce, and NVIDIA, allowing investors to gain exposure to the industries driving AI and ChatGPT innovation and take advantage of any potential upside.
iShares Robotics & Artificial Intelligence Multisector ETF
From the respected iShares stable, the iShares Robotics & Artificial Intelligence ETF is an exchange-traded fund that focuses on companies that are at the forefront of artificial intelligence and robotics innovation. The fund holds a variety of companies in different industries, from technology to finance, healthcare, and more.
The ETF is designed specifically to "benefit from the long-term growth and innovation in robotics technologies and artificial intelligence" according to iShares, which makes it seem poised to benefit from the AI revolution currently underway.2 Similarly to ARK, its top holdings shares include NVIDIA, Microsoft, Alphabet, Amazon.com and Apple Inc. Unlike ARK Innovation, it's not actively managed, but is instead a traditional passive-style ETF.
2. AI companies associated with ChatGPT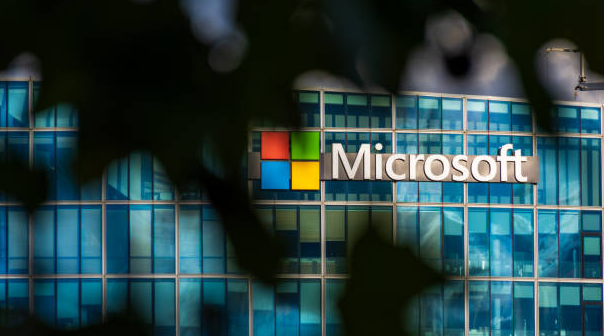 You can also trade on publicly traded companies that are either associated with ChatGPT or, more generally, that utilise technology to reap the rewards of AI and machine learning.
Microsoft
The blue-chip company most associated with ChatGPT has got to be Microsoft, who in January 2023 announced that it would investing a total of $10 billion in OpenAI in the coming years, which it confirmed was the "third phase" after other investments made in 2019 and 2021.1
While it hasn't made all its plans clear yet, Microsoft has said that it is aiming to integrate OpenAI into Azure, its cloud technology, which it described as "OpenAI's exclusive cloud provider."1
Alphabet
Google's chatbot Bard, a rival to Chat GPT, is powered by Language Model for Dialogue Applications (LaMDA). Bard's potential impact on AI research represents an opportunity for Google to defend its most lucrative business, search engines, which currently provide a list of results rather than instant answers in complete sentences that a chatbot can offer.
Google plans to introduce over 20 more AI products and features, with Bard being one of the first. This makes Alphabet one to watch in the AI chatbot race.
Meta Platforms
Meta is actively competing in the chatbot and AI/ML tech space. Mark Zuckerberg also announced Meta's own answer to ChatGPT, an AI called LLaMA (Language Model Meta AI) in February 2023.
Neither Meta nor Zuckerberg divulged specifics about the project or timelines. What does seem clear, however, is that Meta will integrate the new AI into its social media platforms, some of which include Instagram, Facebook and Whatsapp Messenger.
3. Tech companies linked to AI's future infrastructure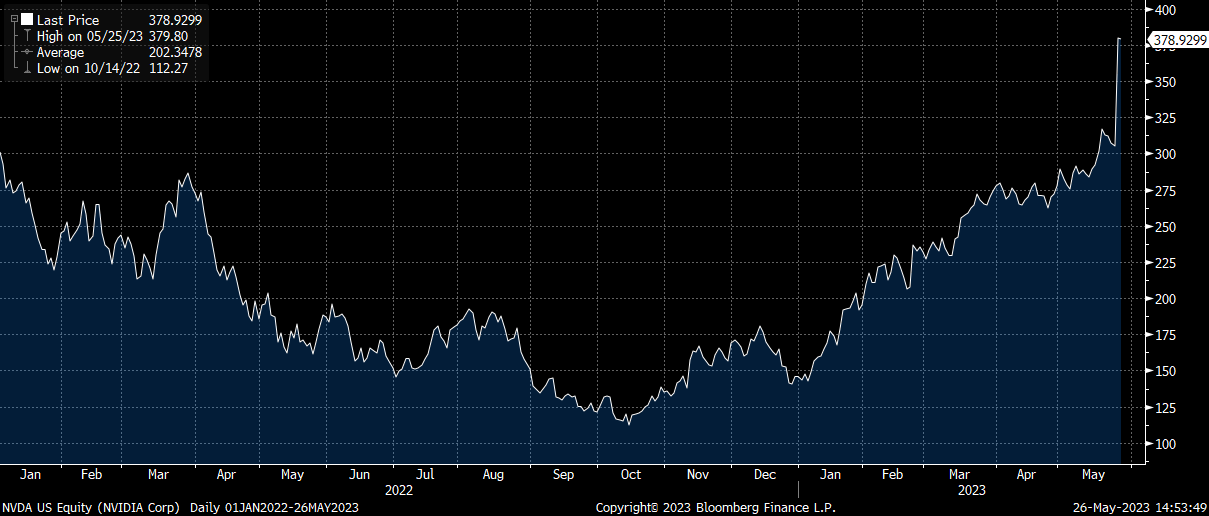 This is a strategic, more indirect way to trade on the future of AI – but is no less effective. While ChatGPT, Bard and other chatbots are certainly in the spotlight, there's a lot of supporting infrastructure required to power an AI revolution. Things like AI platform hosting, internet access, cloud storage solutions, computer chips and more will almost certainly be required.
NVIDIA
Just like all other AI at this stage, ChatGPT requires processing power in order to run – and that means computer chips. In an article by Fierce Electronics, ChatGPT itself confirmed that it uses NVIDIA GPU chips for this.4
It seems that the powerful GPU producing brand's fortunes are tied to ChatGPT's meteoric rise, at least for now. However, other blue-chip chip companies are sure to follow suit, such as TSM (the Taiwan Semiconductor Manufacturing Company), Intel and more.
Amazon.com
ChatGPT's success will likely spawn many other AI technologies and AI tech needs somewhere to be hosted – Amazon seems to be positioning itself as a provider of infrastructure for this.
In April 2023 Amazon announced plans to host different chatbots and other AI technologies on Amazon Web Services, similarly to how Microsoft's Azure currently hosts ChatGPT. Moreover, Amazon has said it will join NVIDIA in providing the tools to "build infrastructure for training AI models", according to TechCrunch.5
Conclusion
Revolutionary new chatbot technology ChatGPT launched on 30 November and has massively impacted the tech space since, with traders and investors alike wanting to get in on the action
However, OpenAI, who invented and owns ChatGPT, is not a public company and so you can't gain exposure to it directly. So, how to trade on the future of AI?
One way to trade on AI is to trade or invest in AI-focused ETFs like ARK Innovation ETF and iShares Robotic and Artificial Intelligence Multi Sector ETF
Another way is to trade on the public companies which do have a stake in either ChatGPT or AI tech's progress, such as Microsoft, Alphabet and Meta Platforms
A third way is to trade on the companies providing AI companies like OpenAI with the infrastructure and resources they need to operate, for example chip producers like NVIDIA or platform hosts like Amazon.com
Sources:
Official Microsoft Blog, 2023

Fierce Electronics, 2023

TechCrunch, 2023
The material provided here has not been prepared in accordance with legal requirements designed to promote the independence of investment research and as such is considered to be a marketing communication. Whilst it is not subject to any prohibition on dealing ahead of the dissemination of investment research we will not seek to take any advantage before providing it to our clients.

Pepperstone doesn't represent that the material provided here is accurate, current or complete, and therefore shouldn't be relied upon as such. The information, whether from a third party or not, isn't to be considered as a recommendation; or an offer to buy or sell; or the solicitation of an offer to buy or sell any security, financial product or instrument; or to participate in any particular trading strategy. It does not take into account readers' financial situation or investment objectives. We advise any readers of this content to seek their own advice. Without the approval of Pepperstone, reproduction or redistribution of this information isn't permitted.