View pairs and instruments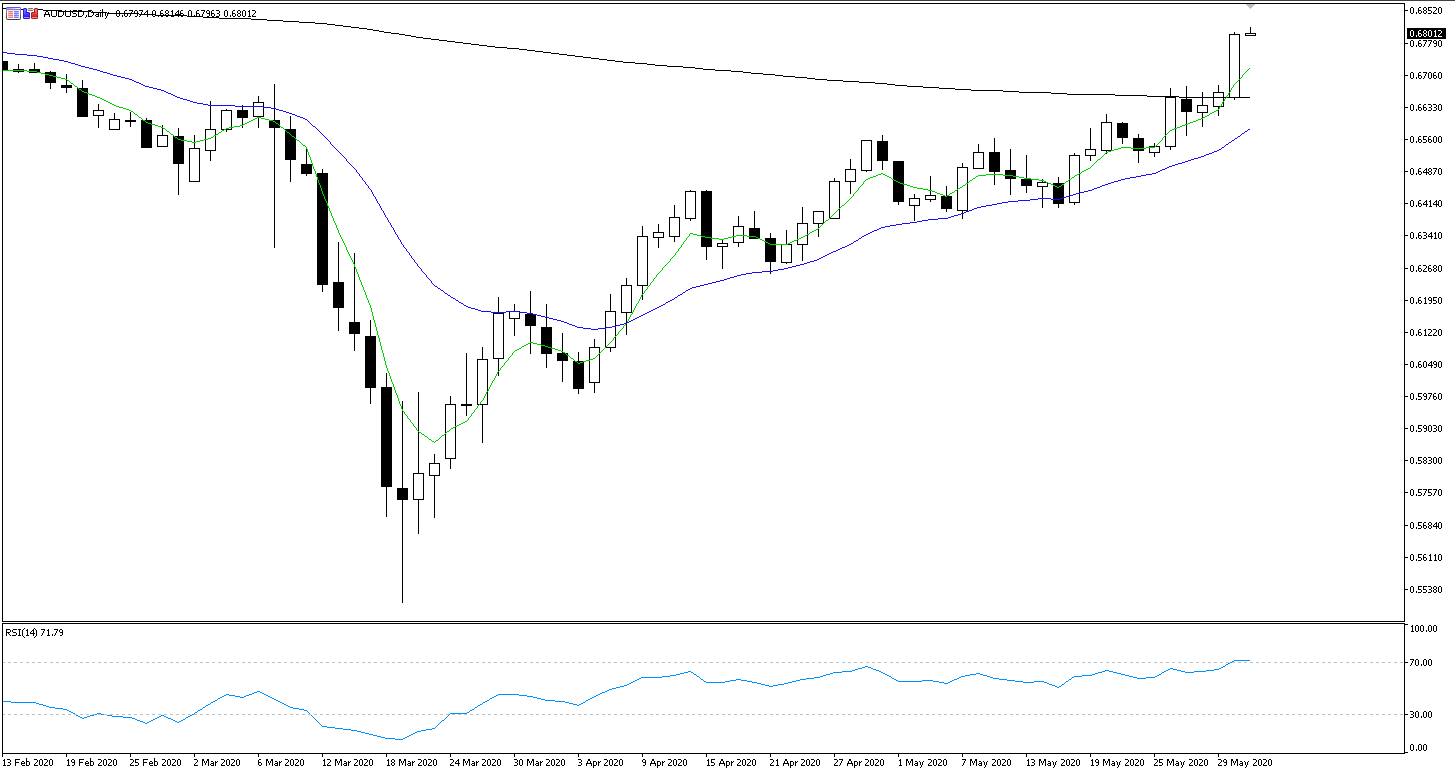 AUD continues its rally, USD sells off
Risk FX is flying and we saw the Australian dollar close 2% higher on the day yesterday. AUDUSD advanced from its Monday open at 0.6655 to hit the 0.6800 handle just after rollover this morning, a level not seen since January.

AUDUSD opened firmly on its 200-day MA yesterday and charged above 68 US cents per Australian dollar this morning. The sharp gains in high beta currencies like the AUD come as the world sees a US dollar outflow as global economies reopen - the USD weakness exaggerated by unrest in the US.
Although the AUD is not in the basket of currencies that measures the US dollar index, the USDX also opened yesterday near its 200-day MA and was offered lower from there.
The RBA meet at 14:30 AEST today - will they talk about negative rates? The central bank has been fairly upbeat recently, pushing back against negative rates, and not making any bond purchases in almost four weeks. Governor Lowe has recently pointed to the possibility of a smaller economic downturn than previously expected. Yet there's a growing conversation that the RBA could implement negative rates within the next 12 months. If the RBA leave the possibility on the table today, that's modestly AUD-negative.


But the AUD (black line) continues to move in the same direction as the S&P 500 (blue line), both reflecting the increasing risk appetite despite a poor global economic outlook.
S&P 500 (US500) futures slipped this morning as President Trump announced the military will be deployed if states cannot quell protests, and the Aussie dollar followed. But if equity markets can largely shrug off a pandemic, national lockdowns, and a record spike in unemployment, this AUD rally might have legs yet.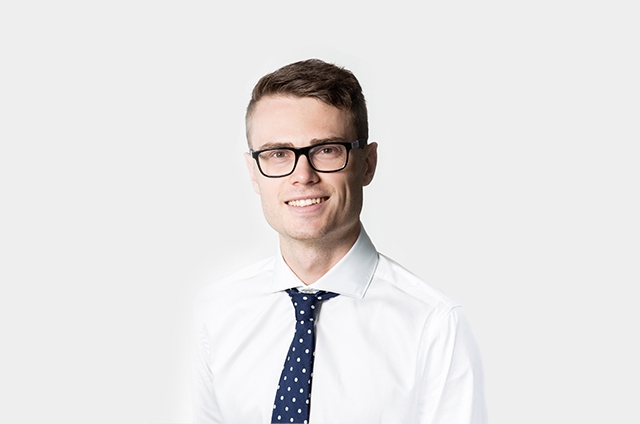 Sean MacLean
Research Strategist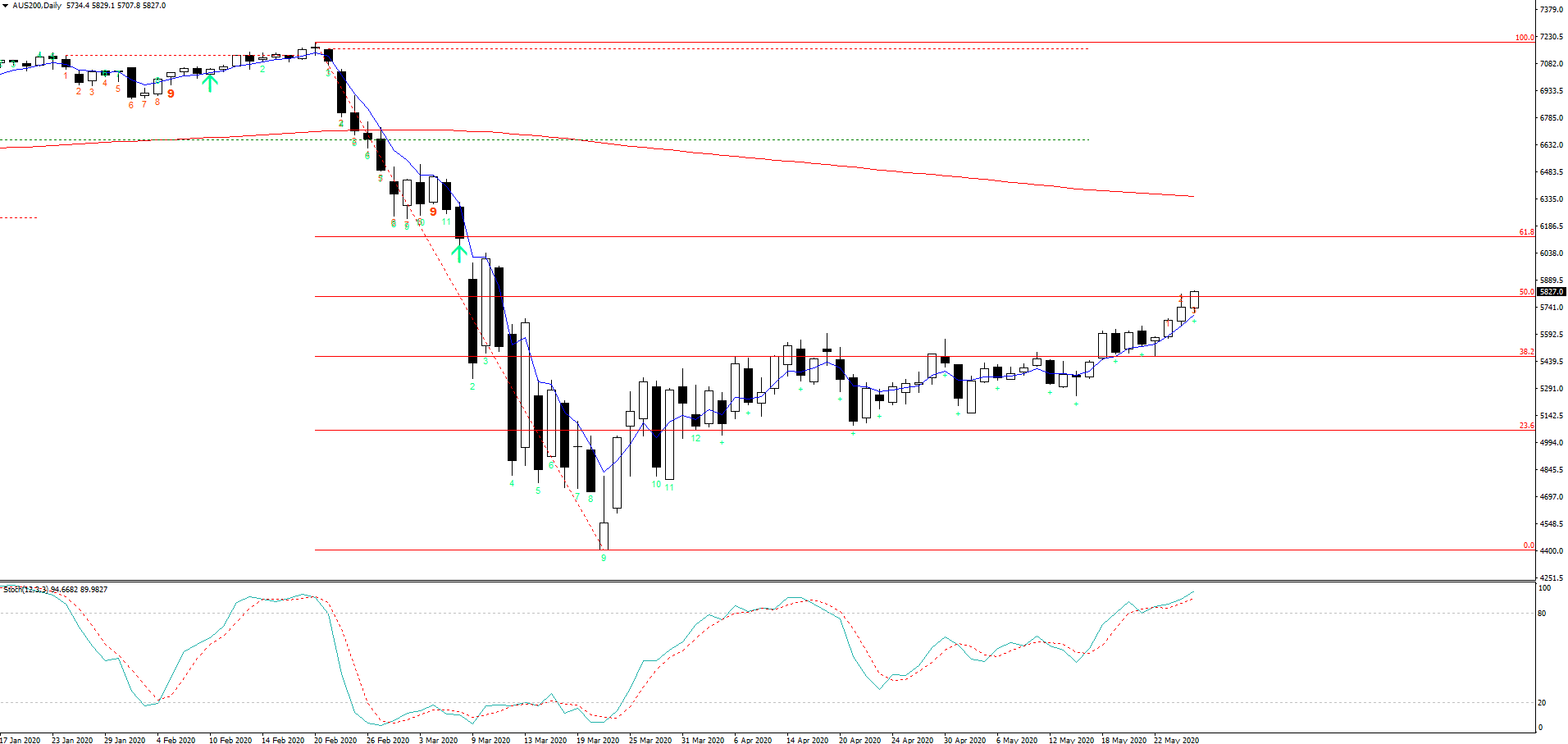 ASX 200 up again on promising bank bid
The S&P/ASX 200 (AUS200) is having another run higher today, with bank stocks flying. A strong session on Wall Street set the tone for another solid risk run here in Australia.
We had keen interest from clients in the AUS200 yesterday, many noticing an approach towards the 50% Fib level of the Feb-March selloff at the 5800 handle. While price couldn't make it this high in yesterday's session (5780 was the session high), we are seeing price easily through 5800 today.
While the 50% Fib level is often talked about, the 38.2 and 61.8 retracement levels are much more important (Fibonacci's Golden Ratio). So we watch for a test of 6125 and from here the 200-day MA (red line) at 6350, but with pullbacks minimal it feels like the path of least resistance is higher.
It's noteworthy that bank stocks are flying today, with a shift from aggressive growth stocks into value. Banks reflect the real economy, and these stocks have been unappealing due to repayment holidays and low yields at the long end of the curve squeezing bank's lending margins. A bid higher in bank stocks reflects a broader bid on a strong recovery. If we were to see the yield curve steepen, these bank stocks could really go for it.
The fact we are seeing a strong rotation out of growth and into value is what the index bulls really want to see. When one sector gets too hot, the market flips into a sector that has lagged. Cyclicals brought us out from the lows, value is taking over, but is it sustainable?
The sentiment follows signals from Wall Street overnight, where the small-cap Russell 2000 (US2000) gained nicely while the aggressive tech index NAS100 moved lower. The move in small-caps is a robust sign that this rally has legs, rather than the tech-led rally we had seen so far in this recovery.
Traders continue to look through poor data prints and shake off geopolitical risk, instead betting on a strong recovery as economies come out of lockdown.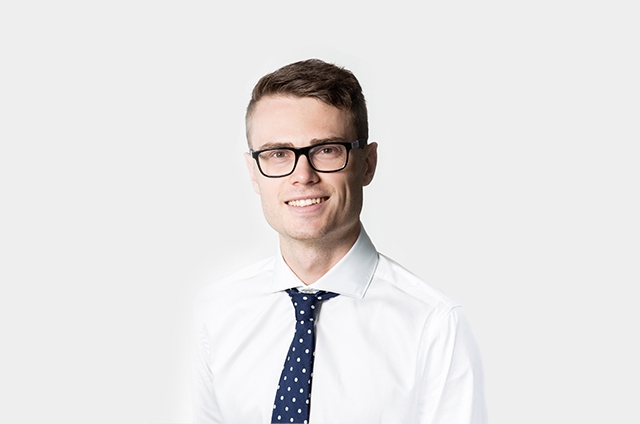 Sean MacLean
Research Strategist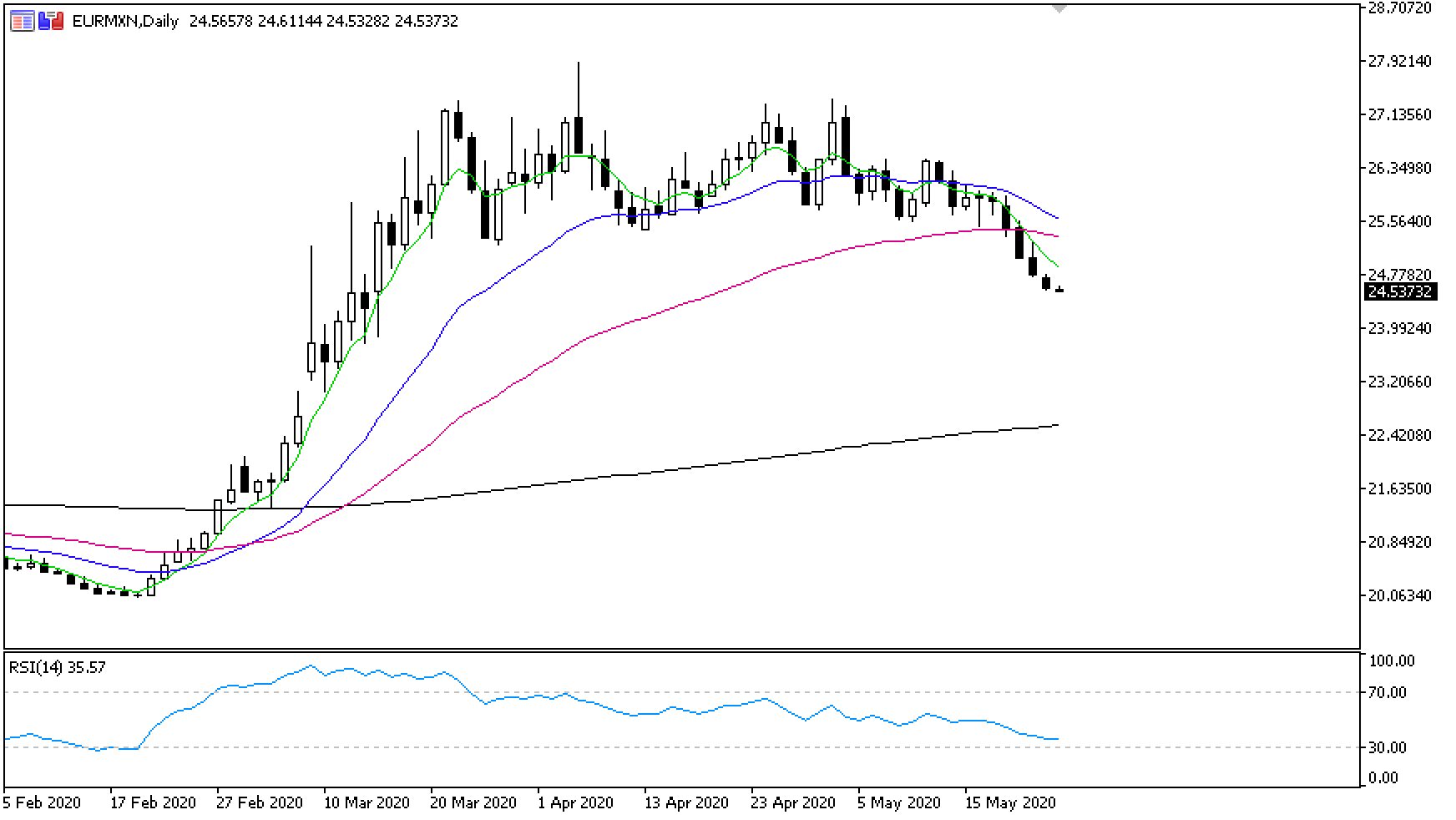 EURMXN: Why the carry trade is back
As implied FX volatility (vol) falls and risk sentiment improves a touch, traders are seeking payment to be in a position, with the carry trade staging a strong comeback. My personal preferred carry vehicle right now is EURMXN, given the high swap received for being short this pair.
The EURMXN daily chart shows a gentle grind lower over the last week as the MXN has appreciated against the euro, a move that will be further exaggerated if the carry trade gains popularity. The pair is trading at a lower level not seen since mid-March, just before the pandemic sell-off.
The MXN is strengthening here not because markets like domestic economics in Mexico, but because the MXN is a high-yielding currency and traders are seeking profit from interest-rate discrepancies through the carry trade.
Emerging market (EM) currencies are extremely sensitive to global risk appetite, and we're closely watching the US-China relationship, but markets are comfortable with MXN appreciation here while global risk appetite improves. But if risk appetite rolls over, so too will high-beta currencies like the MXN.
A solid gage for risk appetite is the S&P 500. If this world-favourite index can break the 3000 level, we should see a boost to risk sentiment. If price can't break above and pushes lower, that will tell us global risk appetite is rolling over and we'd expect EM currencies to decline too. Also note that equity volatility remains fairly high, so a big move here would lift FX volatility.
The carry trade
The carry trade appeals when implied volatility is low as traders are paid a swap rate to be in a position, and can profit off interest rate differentials even if the exchange rate barely changes. Of course, the trade will run at a loss if the exchange rate moves against your position. Swaps are paid/charged daily Monday-Friday on rollover at 12am server time.
To be paid in a position, traders go long a high-yielding currency such as the Mexican Peso (MXN), currently with a 5.5% interest rate, while funding the trade with a low-yielding currency such as the EUR or GBP.
Generally, the higher the interest rate differential, the greater the swap rate. You can find swap rates on MT4 or MT5 in the Market Watch section by right-clicking the symbol and hitting specifications. In cTrader, search the symbol's name and and click the information icon.
Central banks have suppressed implied FX volatility through global coordinated expansion and near zero-rates. While many are tapering QE programs, most remain open to further expansionary measures, including negative rates.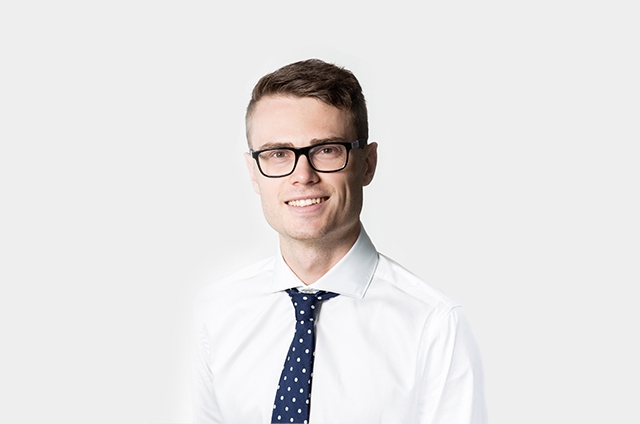 Sean MacLean
Research Strategist