Crypto
Bitcoin
CFDs - How to best capture movement in the Crypto market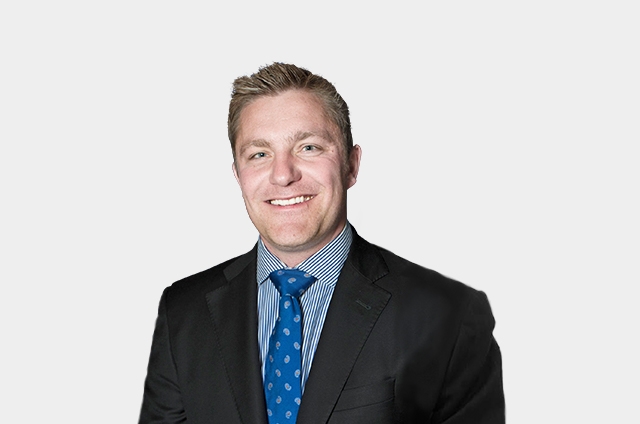 Dec 6, 2021
Trading is not a one-size-fits all model – traders apply different strategies, trading processes and have varying tolerance for risk.
Within the full trading ecosystem, CFD (Contract for Difference) traders are one group who are most intently drawn to movement and range expansion, and will look to scalp, day or swing-trade – either using their own discretion or through an automated process. However, movement is always the real drawcard.
Across asset class, Crypto takes movement to another level and while many chose to HODL, for those who adopt a strategy that aims to profit from two-way (higher or lower) movement in a market, then Crypto CFDs hold some real draw power.
With Pepperstone's Crypto CFDs you trade with leverage – which means you place a percentage of the notional face value as margin. Leverage also needs to be respected, even more so in a volatility product. It does mean that if your primary objective is to capitalise on short-term price moves, that you can take more positions within the account, while utilising the full suite of risk management products to help gain an edge.
Bitcoin daily chart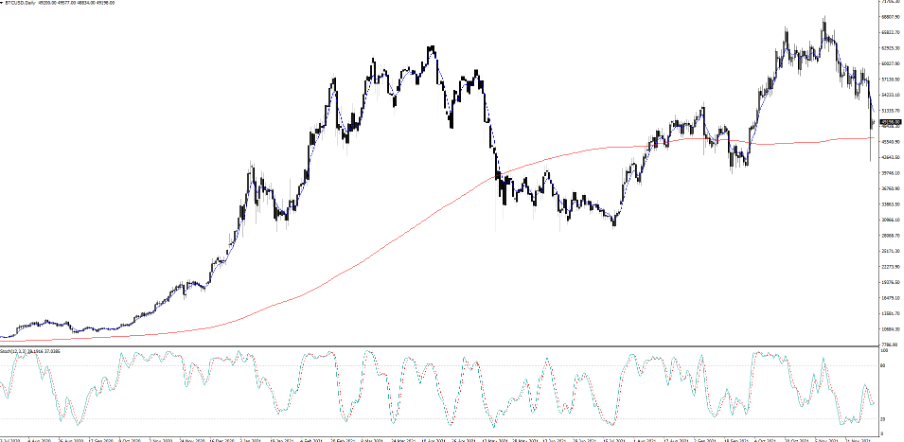 (Source: Pepperstone - Past performance is not indicative of future performance.)
Traders can also short sell crypto CFDs - in fact, CFDs are one of the most efficient ways of taking short positions, especially for those who trade on lower timeframes. Short position that are held past the daily rollover time will be paid swaps, at a rate of 10% pa.
Crypto has seen some incredible bullish trends over its relatively short period as a mainstream tradeable instrument and for periods this has meant buy and hold have been incredibly lucrative.
However, when we do see drawdowns in Crypto, the moves can be far more pronounced and aggressive than any other market. Traders can use CFDs to trade this move lower or use CFDs to hedge their underlying 'physical' Crypto position (held on exchange) and manage through the drawdown.
For traders, especially those who trade using technical analysis or price action, this means the ability to potentially profit from moves higher or lower 7 days a week.
2021 – another year of movement in Crypto
For context, let's assess various measures of movement in Crypto in 2021 that could appeal to different trader types. I've used Bitcoin (BTC) as primary vehicle for the case study.
Bullish momentum – We've seen five occurrences of 6 consecutive days of gains this year (both Bitcoin and Ethereum) vs S&P 500 (3), EURUSD (2), XAUUSD (3)
Drawdown - we've seen 15 occurrences of drawdowns >10%+ - BTC averages over one 10% drawdown each month, the S&P 500 has seen just one 6% drawdown in 2021
There's been six occasions when BTC has closed lower by 10% or more
Five occasions when BTC has closed lower by 10% or more
The average high-low percentage daily range in BTC has been 6.91%
There's been 50 occurrences in 2021 of a 10% daily high-to-low trading range
Eight occurrences of a >18%+ (3 standard deviations of the YTD average) daily trading range
The year-to-date (YTD) average 5-day average true range is $3120 (range $7400 to $590)
Bitcoin – high-low % trading range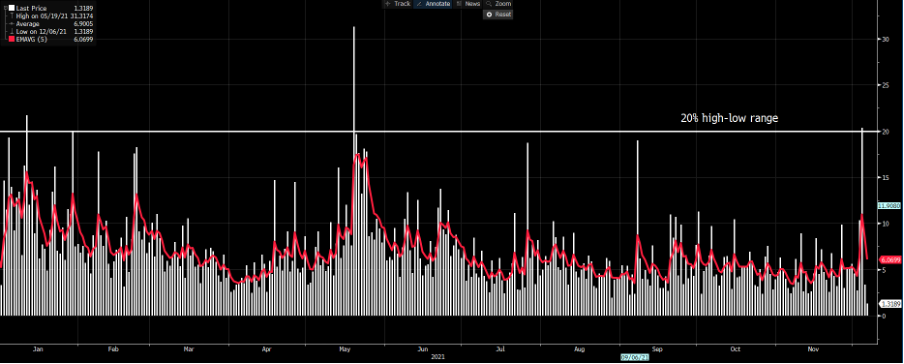 (Source: Bloomberg - Past performance is not indicative of future performance.)
Let's increase the sample size – statistics on movement since 2015
Bitcoin has seen 31 occurrences of 6 consecutive days of price gains vs 14 for S&P 500, 10 EURUSD, 18 XAUUSD
Number of occurrences of 10%+ drawdown - BTC 84, ETH 123, XRP 138, Doge 138
Of these occurrences, the average length (n. of days) to get to 10% - BTC 8 days, ETH 5 days, XRP 6 days
For comparison, the S&P 500 and XAUUSD have both had just eight 10%+ drawdowns since 2015 – average time, 35 and 79 days respectively
The more volatile Brent crude has had 42 (average length 18 days) 10%+ drawdowns, NAS100 12 10% (26 days) drawdowns
What's more - ETH has had 54 occurrences of 20%+ drawdowns
Do you want two-way movement? So the quants portray that Crypto is not just simply about HODL – we can see it has intense two-way movement, more often than other core markets. While the pace of the selloffs is also far more extreme.
The cost for movement
Like any tradable market, there's a cost to transact – one way to look at this is the cost to gain access to movement, where movement is opportunity. Taking the logic = ATR (5 period) / average spread, we can see how this stakes up across asset class.
The higher the number the greater the movement you capture for the cost to transact.
SpotCrude = 89
Bitcoin = 95
EURUSD (standard account) = 105
NAS100 = 160
XAUUSD = 184
While bid-offer spreads will fluctuate depending on market conditions, if we take an average the stats suggest Crypto is actually well priced when we assess the movement relative to the cost to trade. Especially considering these more established markets are incredibly cheap to trade.
Aside from the costs and the fact that Crypto is one of the best trending and momentum (up or down) vehicles, on all timeframes - traders can also see other benefits of trading Crypto as a CFD.
If trading Crypto – long or short – where trading short-term moves appeals, CFDs could be one vehicle that could help express that view. Ready to get started? Trade the opportunity with Pepperstone.
The material provided here has not been prepared in accordance with legal requirements designed to promote the independence of investment research and as such is considered to be a marketing communication. Whilst it is not subject to any prohibition on dealing ahead of the dissemination of investment research we will not seek to take any advantage before providing it to our clients. Pepperstone doesn't represent that the material provided here is accurate, current or complete, and therefore shouldn't be relied upon as such. The information, whether from a third party or not, isn't to be considered as a recommendation; or an offer to buy or sell; or the solicitation of an offer to buy or sell any security, financial product or instrument; or to participate in any particular trading strategy. It does not take into account readers' financial situation or investment objectives. We advise any readers of this content to seek their own advice. Without the approval of Pepperstone, reproduction or redistribution of this information isn't permitted.