Trading
How Do You Short-Sell Stocks On The MetaTrader 5 Platform? A Step-By-Step Guide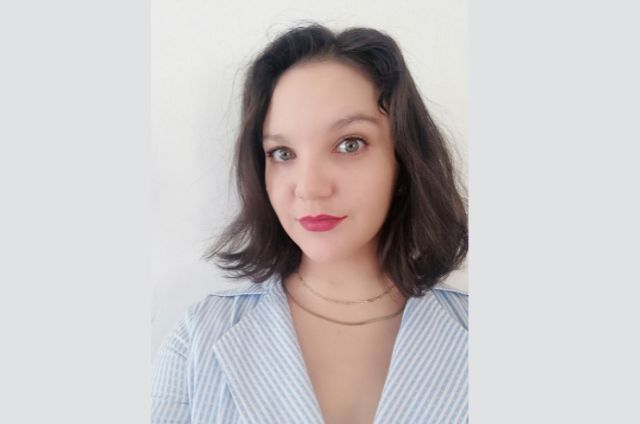 21 Aug 2023
How do you trade when markets are falling? Going short opens up a whole new world of trading: potentially making a profit from prices dropping. Discover how to short-sell stocks in different ways on one of the world's biggest trading platforms, plus short-selling strategies for stocks on MT5.
What is short-selling?
Going short or short-selling is a method of speculating on a market where you predict that an asset will fall, rather than rise, in price.
When you trade on stock CFDs (or any other underlying asset CFDs for that matter) you're not purchasing the stocks themselves but are instead speculating on what direction you think the market will go. You can either 'buy' (known as going long) or 'sell' (known as short-selling or going short).
Why you might want to use short-selling as part of your trading strategy
Short-selling using CFDs is a tactic with many facets that can help with stock trading in several different ways. The first and most simple way is this: it empowers you to potentially make a profit or loss even in negative market sentiment environments when stock prices (which are the underlying asset your CFDs are trading on) fall in value.
This already gives you an advantage over stock investors that have purchased shares outright: as they can only make money by selling their stocks at a higher price. So, if the market's going down, and share prices with it, they're out of luck. Traders who've mastered shorting get the opposite - an opportunity to actually profit from downward-trending markets, as long as they've speculated correctly. It's important to remember, however, that if they are not correct, they will make a loss.
As you can imagine, short-selling stocks can be a profitable strategy in a number of scenarios like:
In a bear market (when experts are pessimistic about growth and asset prices rising) or even during a recession
When interest rates and/or inflation is rising, taking a negative toll on stock prices worldwide
In a time of global uncertainty - for example, during the Covid-19 pandemic
When a stock is caught in the crosshairs of negative press - for example, a scandal involving the company CEO
During earnings season, if you have good reason to believe the company's results will be subpar and underwhelm investors
If you have done the research and believe that a stock's current price is overvalued in the market currently, and is heading for a correction/mean reversion
In any and all of these scenarios, if you forecast them correctly when trading stocks on MetaTrader 5, you'll make a profit - no matter what the market is doing, as long as your prediction and timing are right. If you're incorrect instead at the time of closing your trade, you'll make a loss.
A word of caution - short-selling is a complex trading strategy that holds inherent risk. That's because you'll make a loss if prices rise instead of fall - and, as there's no limit to how high markets can rise, in theory your potential for loss is unlimited.
Setting up an MT5 account for short-selling
You'll need both the MT5 platform software and a financial broker to get started with stock trading on MT5.
Understanding MetaTrader 5
Interested in MT5 as your home for stock trading? You're not alone! MT5 is one of the most popular share trading platforms of all time, with millions of users across the globe.
In 2005, a company named MetaQuotes created the MetaTrader 4 platform for forex markets - which quickly became the most popular trading software throughout most of the world for its automated trading features, customisable market charts and wide variety of technical analysis tools. However, MT4 lacked share trading options (except when specially reconfigured by a trader who knew what they were doing, and then only in a very limited capacity). So, the company then released MetaTrader 5, with all the functionality of MT4 but with added financial instruments and markets - including stock trading.
Downloading MT5
In order to use MT5 securely, you need a trustworthy broker that is financially stable and regulated. Like Pepperstone - we're an award-winning trading platform. So, one way to get trading with MT5 is to open a live account with us.
Once your Pepperstone trading account is created, you'll go to our MetaTrader 5 platform page and download MT5 – either onto your computer, or via the app store for mobile trading on your phone.
When downloading MT5, you'll use our secure client area. You'll then be prompted through the download process, and once your trading platform has loaded, you'll be asked for your account number, password and server name. This is in order to connect the MT5 platform with your Pepperstone trading account for a seamless trading experience.
How to go short when trading stocks on MT5
There are different ways to 'sell' or 'go short' in the MetaTrader platforms. We'll discuss a couple of them below.
The fastest way to short-sell on MT5:
Open your MetaTrader 5 platform, logging in with your Pepperstone trading account credentials.
Open the market's chart which you want to trade on by selecting its symbol. You can do this from your MarketWatch, clicking on the symbol and dragging it to your main chart window in the centre of the screen.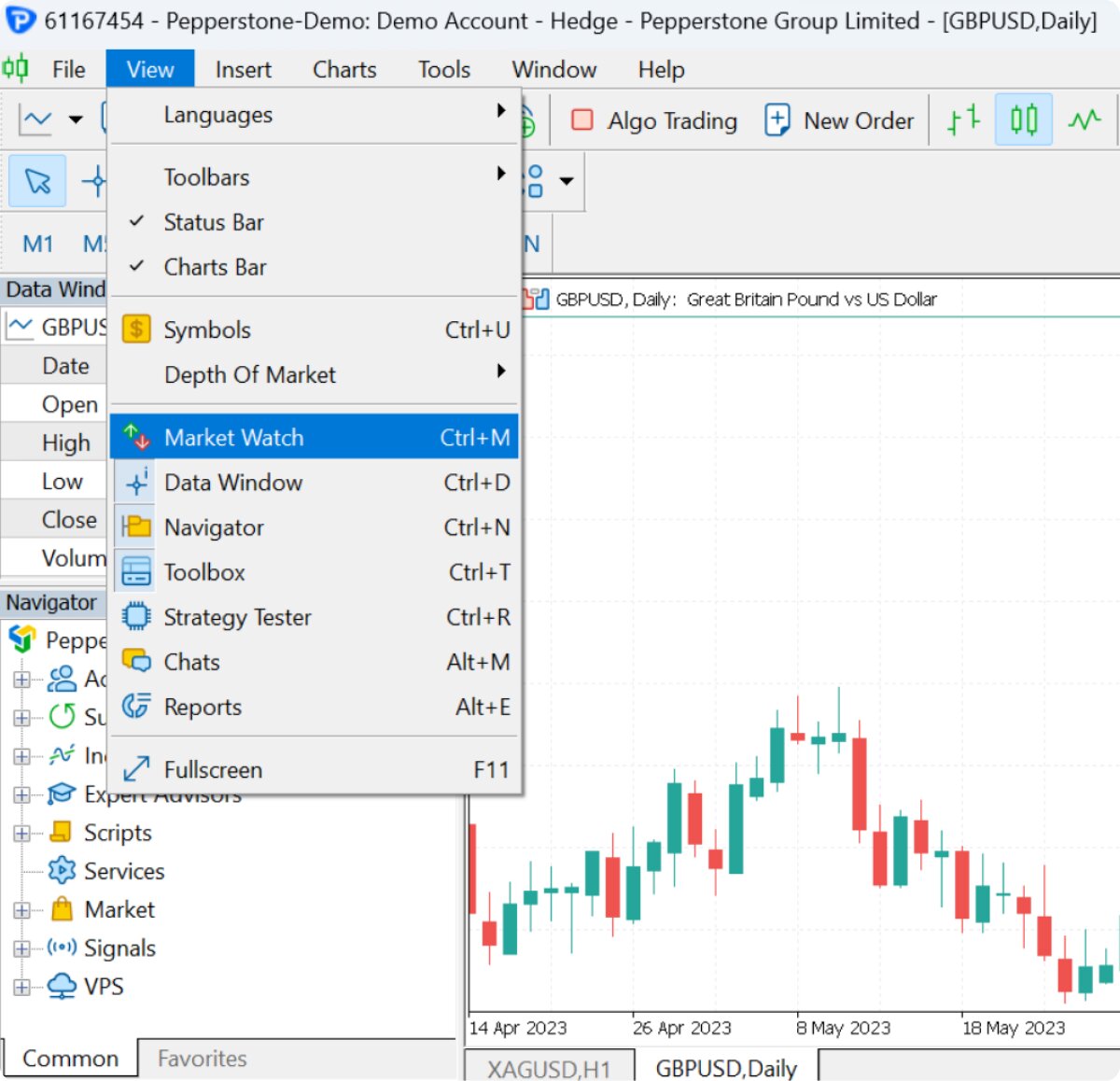 3. …Or you can accomplish the same thing by right clicking 'Symbols' and, from there, also click on the symbol and drag it to your main chart window in the centre of the screen.
4. Once this chart is open, you will see a 'Buy' and 'Sell' deal ticket appear on the chart if. Simply click 'Sell' to execute a short-sell order immediately. This is called one-click trading.
5. You now have a position open, which will appear below your chart in the open trade positions section, right by where your account balance is displayed. This is highlighted blue in the image below: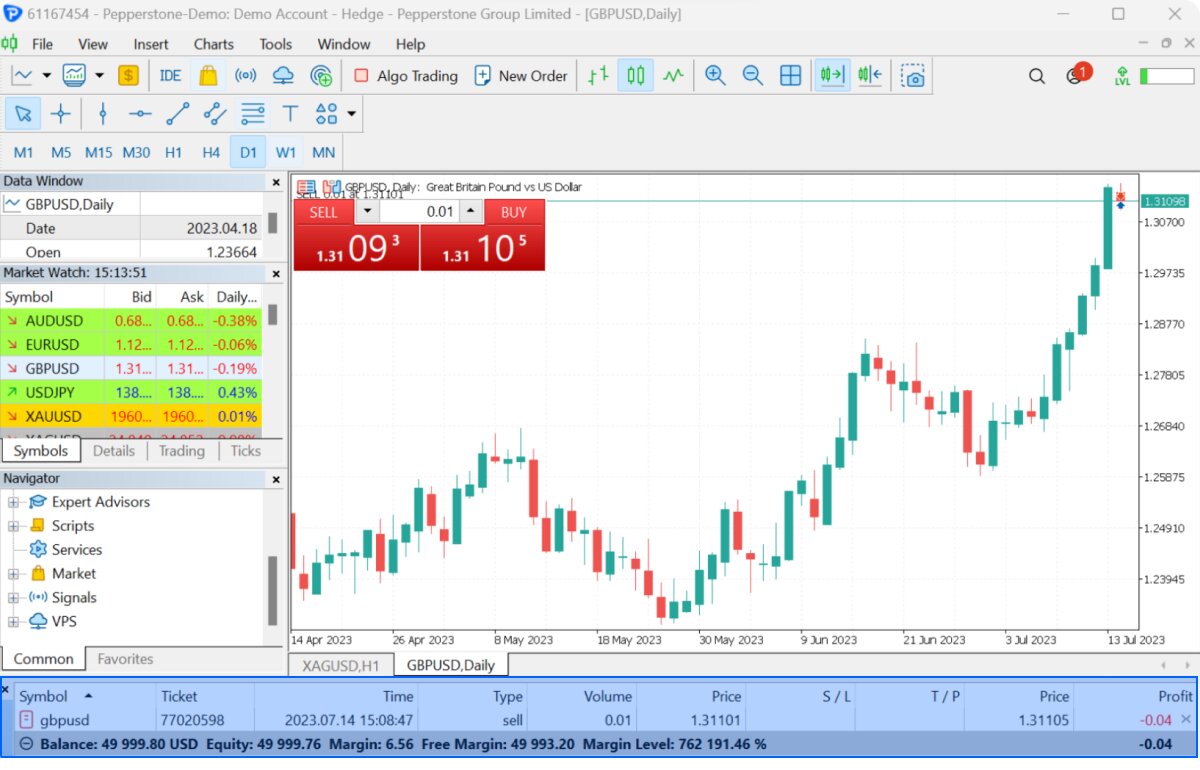 6. In order to modify this open position, right click on it in the open trade positions section below the chart, as pictured above,to add risk management tools like a stop loss or a take profit order. You may also modify the trade here. You can also close your position here.
7. Be aware that your MT5 program will have default trade sizes already inputted. Usually, this size is 100,000 units (which looks like 1.00) unless you have already changed it. So, be aware that if you click 'Sell' without modifying your position size, MT5 will automatically execute a sell trade of 100,000 units in size for you.
8. Once you are satisfied with your level of profit or loss level, it's time to close your position. To do this, click on the 'x' on the right hand side of your open position, displayed beneath the chart. Also be aware that, should the stock price hit the level that you've inputted as your stop loss or take profit level, this will close your trade automatically.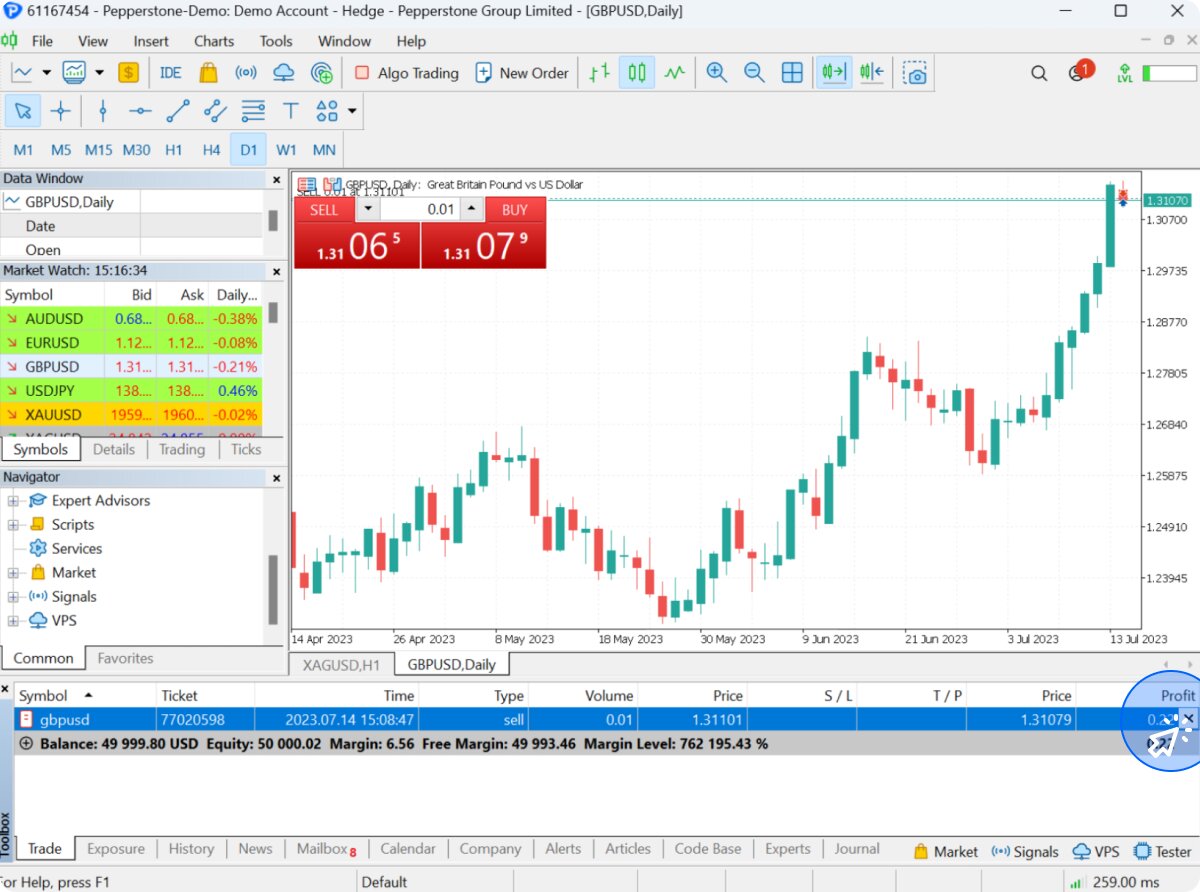 The more detailed way to short-sell on MT5:
Open MT5 and your chosen chart in the same way as above.
Instead of clicking on the 'Sell' button on the chart, click instead on the 'New Order' button in the toolbar above the chart. Alternatively, you can right click on the symbol of the market you want to trade in the Market Watch section, then select 'new order' from here.
3. This will bring up a new window called a 'deal ticket', on which you'll type in the position size you want, as well as stop loss and take profit orders and any other specifications. You can also choose between different trade types. While 'market execution' will fill your order at the best current price available immediately, the 'pending order' type will instead fill your order only when the market reaches the exact specifications you've set out in the deal ticket.
4. Once you have completed your specifications in the deal ticket, click 'Sell by Market' at the bottom to go short.
5. You now have a position open, which will again appear below your chart in the open positions section, highlighted blue below, right by where your account balance is displayed.
6. To exit the trade, click on the 'x' button here when you wish to close the position.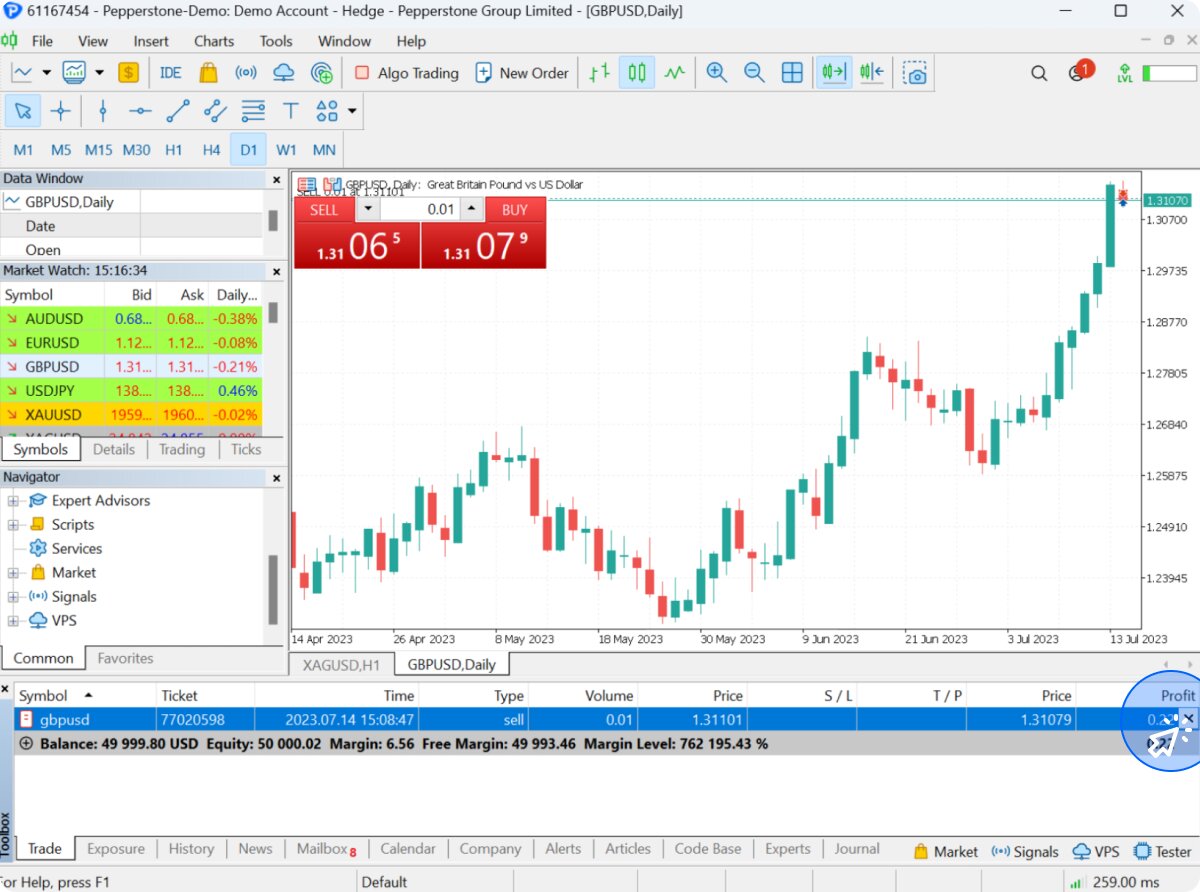 Want to see how to place a trade step-by-step in MetaTrader 5 and learn expert adviser trading tips? Watch the video!
Strategies for shorting stocks on MT5
There are many reasons traders choose to short-sell a stock. However, it's important to remember that short-selling stock CFDs is a complex trading strategy that holds inherent risk. Below are some of the most popular strategies traders use when going short on stocks:
Fading the downtrend: The most simple shorting strategy, this involves using technical analysis, looking at historical data on your chart and technical indicators, to determine when an asset's price will be trending downwards and opening a short position in bearish markets in time to catch or 'fade' this trend
Trading the pullback: After a market's experienced an uptrend, typically it will then go through a 'pullback' phase, when it tries to correct itself. In other words, this strategy involves catching that potential pullback if it happens.
Trading the correction, or retracement: This is a trader using fundamental analysis to determine when an asset might be overvalued, then going short at the point which they believe the market may try to correct itself with a correction or retracement
Shorting an event: This is opening a short position to coincide with news or another event that you suspect will negatively affect the stock price. For example, it's earnings season coming up, and due to the economy you believe a company's next results will disappoint shareholders. So, you open a short position at the time of the earnings season announcement.
Expert tips and advice for shorting stocks on MT5
Here are some other links for further learning on both indices trading and getting the most out of MetaTrader 5:
Learn advanced MT5 FX strategies
FAQs
What is short-selling?
Short-selling or 'going short' is a way to speculate on markets that you think will depreciate, rather than appreciate, in price. Here, you'd 'sell' rather than buy (or go long) in order to potentially make a profit. If you predict correctly and the underlying asset's price drops, you'll make a profit. If it rises instead, you'll make a loss.
Why do traders go short?
Traders go short to potentially capitalise on more pessimistic times, when they think a market's price will fall rather than rise. Unlike investing, which can only net you a profit if prices increase, going short via CFDtrading allows you to make a profit even when prices go down. Another reason traders short-sell is to hedge their existing long positions.
What's the best way to make money short-selling?
There is no best way, and no fool-proof way either, to make money going short. The only way to make money when trading is to consistently, accurately forecast price movement of a market. This takes time studying your chosen market, learning the various techniques of trading, practise and mastery of emotion. Short-selling in particular requires these things as it is a complex way to trade that holds inherent risk, and is often better suited to experienced traders than beginners.
What are the best strategies I can use to short-sell?
The word 'best' is subjective and differs for each trader depending on their goals and trading style, but some of the most popular shorting strategies include fading a downtrend, trading a pullback or market retracement/correction, hedging using both long and short positions on the same underlying asset and shorting a specific macro event.
Is short-selling stock CFDs risky? If so, what are the risks?
Yes, going short on stock CFDs can be risky. That's because stock CFDs are a complex financial instrument to trade, which can result in losses if beginner traders speculate on them without fully understanding CFDs.
Also, it's important to remember that, when you're going shorting, you're predicting that a stock price will go down - making a profit if it does and a loss if it rises in price instead. This means all short-selling holds inherent risk, as falling stock prices can only drop to zero at the very most - but there's no limit to how high a share price can climb.
The material provided here has not been prepared in accordance with legal requirements designed to promote the independence of investment research and as such is considered to be a marketing communication. Whilst it is not subject to any prohibition on dealing ahead of the dissemination of investment research we will not seek to take any advantage before providing it to our clients. Pepperstone doesn't represent that the material provided here is accurate, current or complete, and therefore shouldn't be relied upon as such. The information, whether from a third party or not, isn't to be considered as a recommendation; or an offer to buy or sell; or the solicitation of an offer to buy or sell any security, financial product or instrument; or to participate in any particular trading strategy. It does not take into account readers' financial situation or investment objectives. We advise any readers of this content to seek their own advice. Without the approval of Pepperstone, reproduction or redistribution of this information isn't permitted.