View pairs and instruments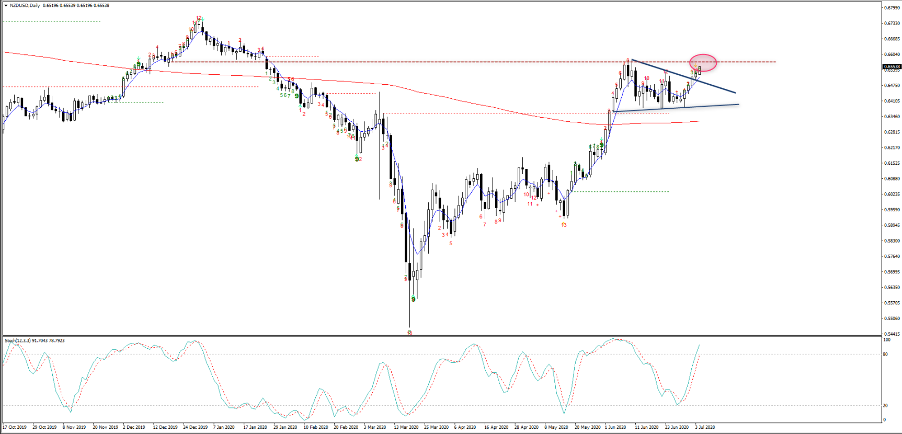 Chart of the day: NZDUSD
NZDUSD is trending on the daily chart, with price following-through after the bullish outside day reversal (seen on 30 June), subsequently raking up a number of consecutive higher highs, with the 5-day EMA defining the bullish trend. Price has also completed a triangle continuation pattern and momentum argues for higher levels, with pullbacks a buying opportunity. I see key resistance at 0.6572, so the prospect of offers here looms large, where a closing break makes life interesting for the NZD bulls and the key issue will be whether to simply raise stops or add to the exposure.
It's hard to be bearish given the flow dynamics, where really a move through 0.6380 would be needed to turn bearish for a near-term test of the 200-day MA and even 0.6171.
Given the positive moves seen in China's equity indices (CN50 for example) and S&P 500 futures it feels like the path of least resistance is for higher levels, with the NZD following these markets in hot pursuit.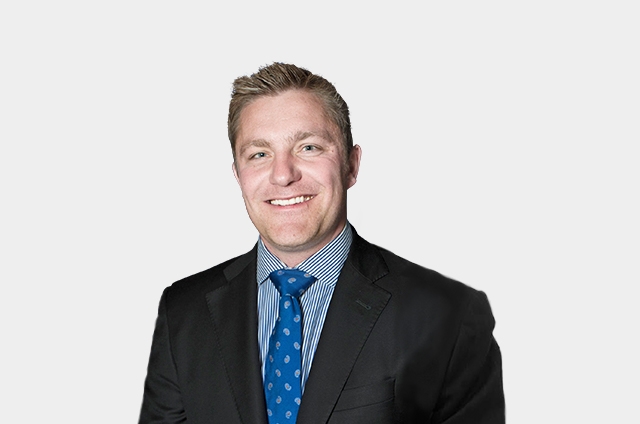 Chris Weston
Head of Research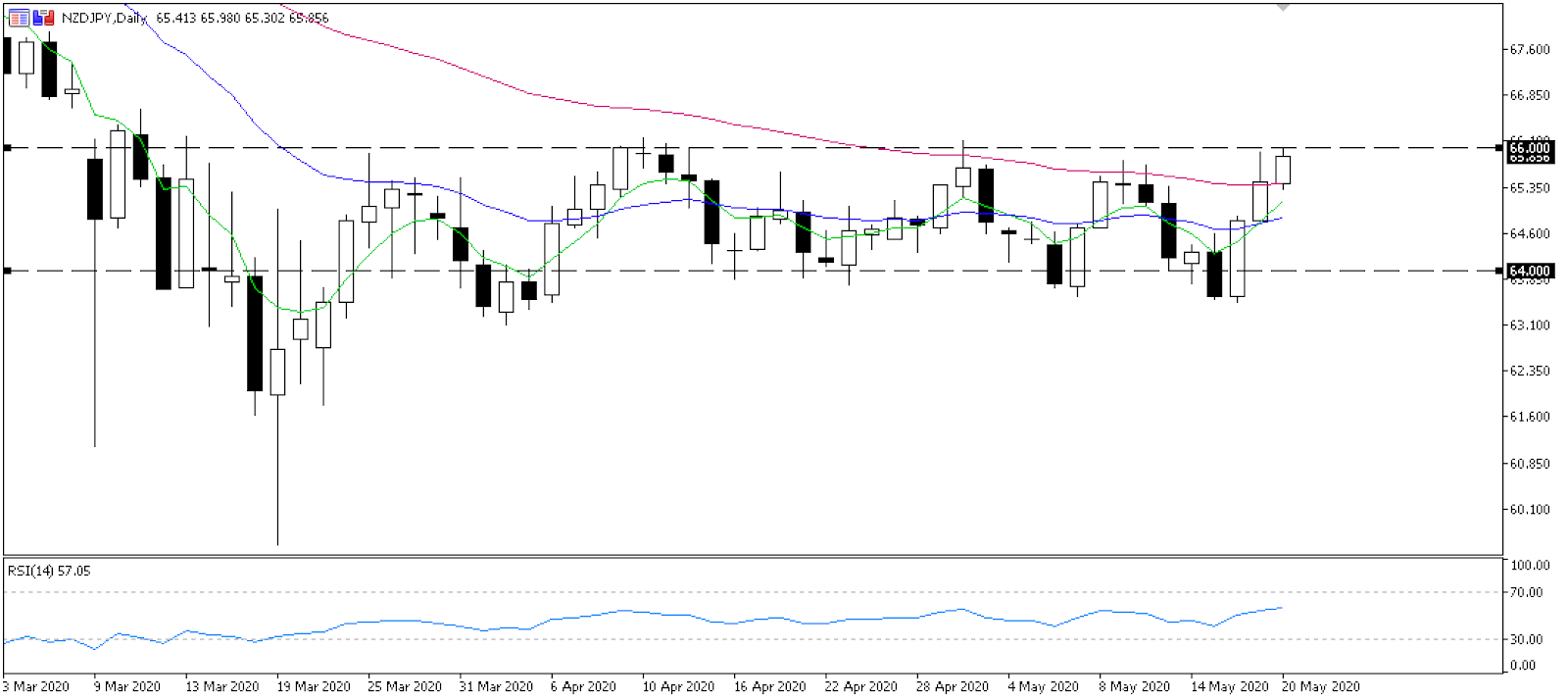 NZDJPY gaining on risk sentiment
We're getting bullish signs from NZDJPY as it approaches 66.0 resistance on improving risk sentiment. This pair has fairly spread volatility across the clock, giving opportunities for day trades across Asia.
NZDJPY closed above the 50-day EMA yesterday (purple line) for the first time since late January on improving global risk appetite. It's testing resistance at the 66 handle once again. The high so far in the early asian session is 65.98.
The NZD is a high beta currency that performs well in a risk-on environment, whereas the Japanese yen performs better in a risk-off environment. Improving risk sentiment favours a stronger kiwi and cooling yen but the question is whether this can be sustained. A close above the 66 handle would be a hopeful sign. If this were to roll over, I'd be eyeing a move into 64.00.
A pair for day traders across Asia
Many FX pairs suffer from limited volatility during the asian session but as you can see from the chart below, NZDJPY sees volatility fairly spread across the clock. Asian session in blue.


NZD fundamentals
The New Zealand dollar has rallied nicely this week from 59.3 US cents to more than 61. Sure New Zealand is easing lockdown restrictions after an aggressive virus elimination strategy, but the truth is global risk appetite is a much greater driver of the NZD.
Adding to the kiwi's gains, yesterday it outpaced its neighbour the AUD on confirmation the Reserve Bank of New Zealand (RBNZ) will not reduce rates until at least March 2021. There had been speculation the central bank would have its hand forced to pursue negative rates sooner rather than later.
JPY fundamentals
The Japanese yen has cooled this week for two reasons. Improving global risk appetite has unwound some of the safe havens flow, but also the Bank of Japan (BOJ) called for an unscheduled meeting to support small to medium businesses after the country officially slipped into a recession on Monday's GDP print. Japan last suffered a recession in 2015.
NZDJPY is a good risk proxy. If risk sentiment rolls over again, we'll see NZDJPY sliding back towards the 64.00 handle.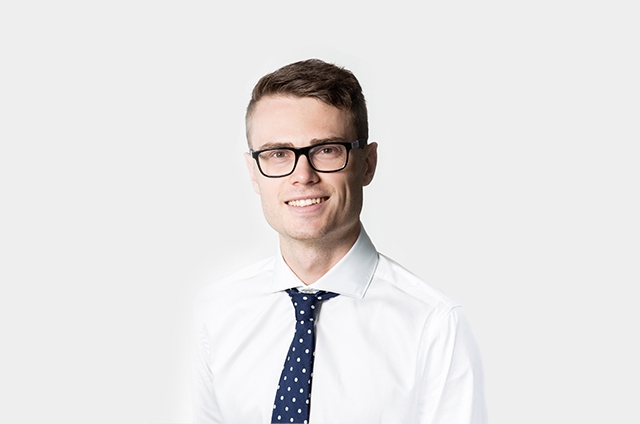 Sean MacLean
Research Strategist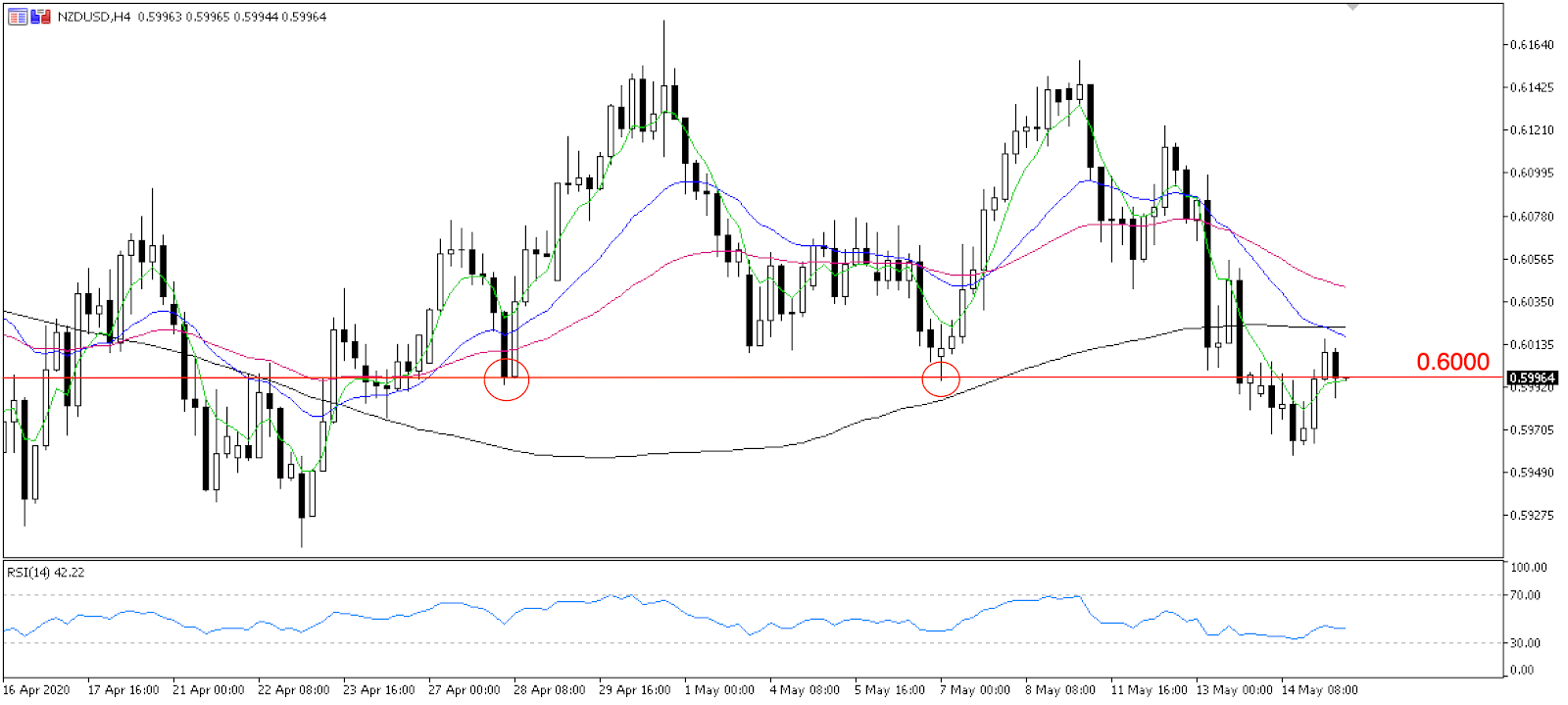 Mixed week for the NZD settles firm on 0.6000 handle
The New Zealand dollar tumbled below 60 US cents this week after the Reserve Bank of New Zealand (RBNZ) left all policy tools on the table and announced they are preparing financial institutions for negative interest rates. But how long will the kiwi spend below the 0.6000 handle?
It's a waiting game for the NZD, which seems to have paused around the 0.6000 handle with a bullish sign in yesterday's hammer candle on the daily chart. A recovery could see the bulls take this towards resistance around 0.6075 and onto 0.6125. The kiwi faced a sharp decline this week, which the bulls could read as a sign of being oversold.
NZDUSD looks hesitant to move lower, however a daily close below 0.5915 could indicate room for further easing.
Despite an increasingly dovish central bank, the kiwi is being helped on good news domestically that lockdowns are significantly easing: cafés and gyms have reopened although with strictly social distancing practises. The Ardern government yesterday announced a bazuka budget, including a $50bn pandemic fund aimed at keeping as many kiwis in jobs as possible. This could be preventing the NZD falling further.
Also consider the discrepancy between the kiwi and its neighbour the AUD. The two currencies tend to maintain a similar value, however the AUDNZD cross has recently charged towards 2019 highs after scraping just below parity in March. It would take considerable AUD strength for AUDNZD to surpass the 2019 highs at 1.0865. AUDNZD opened today at 1.0760.
Both NZDUSD and AUDUSD are traded as global risk proxies. Fragile US-China relations will weigh on the antipodean currencies, who both rely on China as a major trading partner. As will the direction of the S&P 500: a bullish day for US equities tends to see AUD and NZD higher.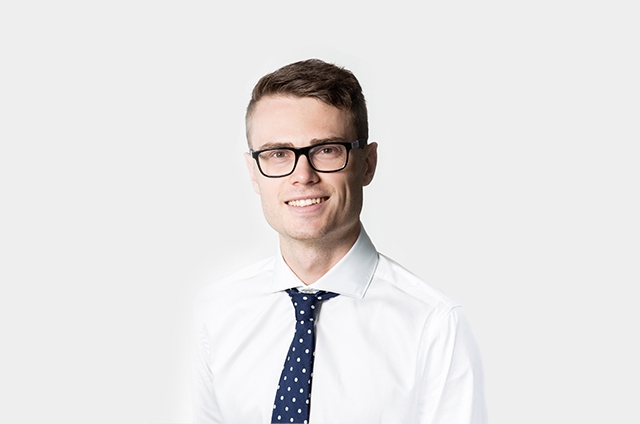 Sean MacLean
Research Strategist