View pairs and instruments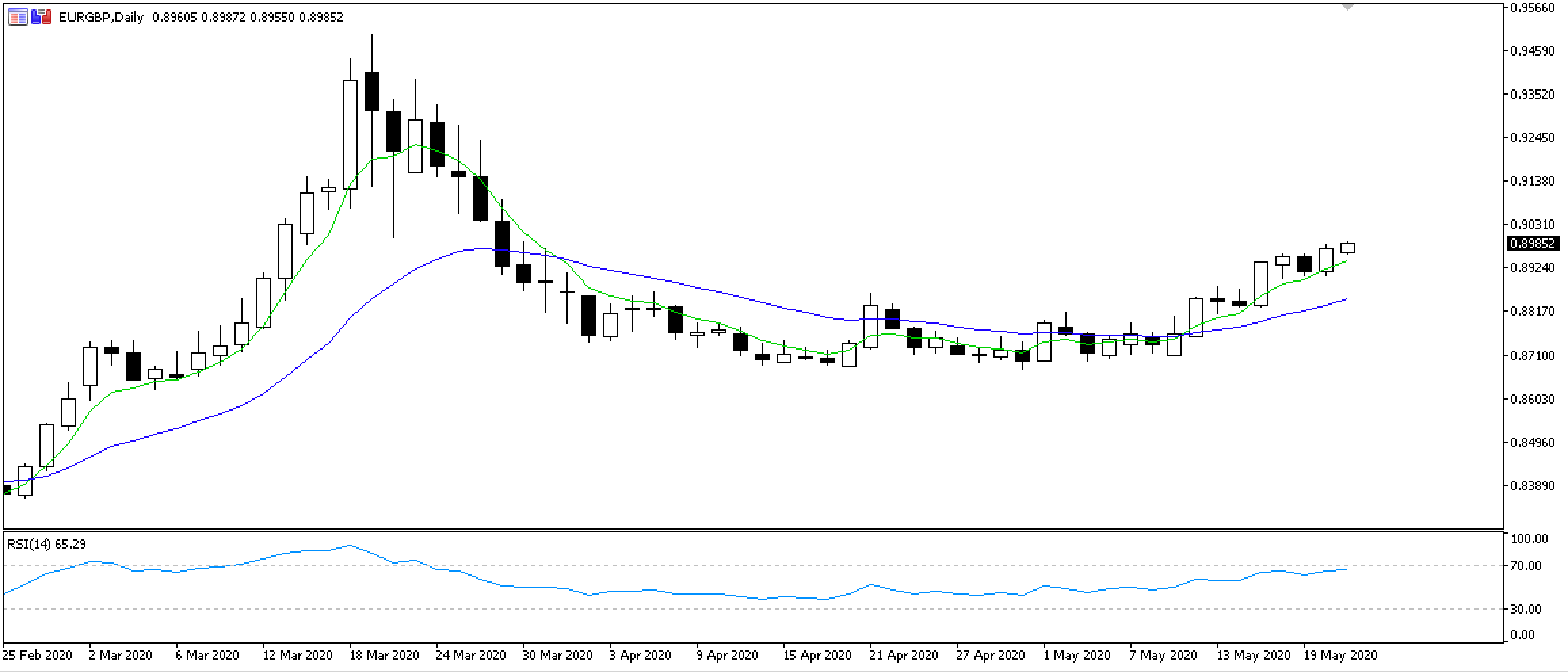 Flash PMIs tonight amid bullish run in EURGBP
The euro has received a lot of love over the past week, particularly compared to its British neighbour the GBP. Flash PMIs for both the eurozone and UK present event risk at 17:30 AEST (10:30 server time) as EURGBP approaches the 0.90 handle.

Event risk: flash PMIs
EURGBP has had a nice run lately, and PMI data tonight could bring some choppy event risk as price consolidates higher. Markets will be watching these releases closely to understand how activity has picked up since record contraction during the height of lockdowns last month.
In April, the Euro area services PMI printed at an uninspiring 12, while Germany printed at 16.4. Markets expect a eurozone improvement to 25 and Germany to 26 tonight. For manufacturing, the consensus is for the eurozone to lift from 33.4 to 38 and Germany 34.5 to 39.4.
While forecasts are for an improvement, the absolute values remain contractionary. (A PMI print below 50 is contractionary and above 50 expansionary.) Economic activity remains suppressed and there's a long road yet to recovery. If euro PMIs print lower than expected, it'll indicate a longer than expected recovery and weigh on the euro. Whereas a higher than expected print, or just one in line with expectations, should confirm the consensus that economic activity has troughed and could be modestly euro-positive.
Expectations are less upbeat for the UK, which is only more recently coming out of lockdown than many european countries. Services data is much more relevant for the UK than manufacturing: April Services PMI printed a record low 13.4, expected to increase to 25 for May. Manufacturing printed is expected to lift from 32.6 to 36.

It's a lot of data and markets could take some time to digest it all. Rather than trading the event, this might be one to take a view on and enter once markets have consolidated after the release.
You can stay up to date with economic data releases with our economic calendar.
Euro back in the top of its range
The euro is back in the top of its range against the US dollar after a week of improving risk sentiment. But an agreement between France and Germany has further bolstered the euro. The EU strongholds agreed on a €500bn virus recovery plan to be distributed as grants rather than loans. It's a promising move that will not only support member nations facing crises like Italy, but also shows signs of unity after stark fiscal divisions.
Now that the rush for USDs is cooling, also consider that ECB rates are unchanged while the US Fed funds rate has been slashed to near-zero. The US dollar has lost a lot of its yield attraction, which could see higher euro demand in the long-run.
British pound falling
While most currencies advanced against the US dollar yesterday, the British pound did not, exaggerating the bullish EURGBP run.
Talk of negative rates in the UK has been a heavyweight on the GBP. Bank of England Governor Andrew Bailey yesterday said negative rates remain under review as a possible policy tool, which contrasts to the Fed who have ruled them out for now. Meanwhile UK Gilts traded with a negative yield for the first time ever, with a 3-yr Gilt auction settling at -0.003%.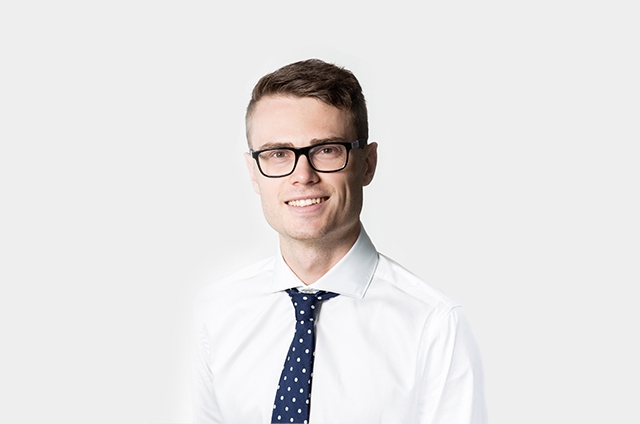 Sean MacLean
Research Strategist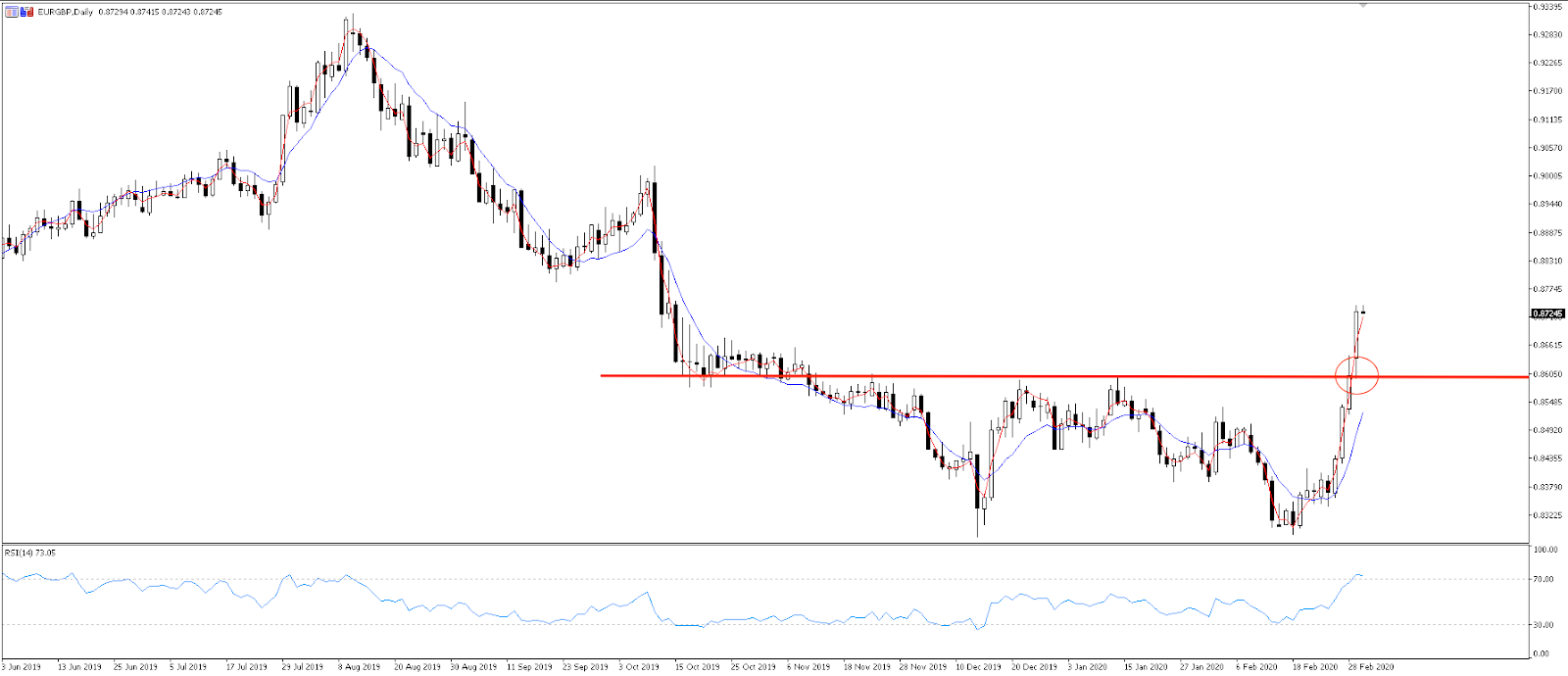 Chart of the day: EURGBP
The euro has made considerable gains in the last week amid modest safe-haven bids while euro-funded trades unwind, meanwhile the GBP has fallen as policy makers commit to supporting the CoVID-19 economic fallout. As markets hope for global central bank support, the risk recovery could now weigh on the euro.
The EURGBP pair broke through resistance at the 0.85956 level on Friday, closing higher, before testing and rejecting that same level in yesterday's trading. Markets have priced rate cuts across the board and the GBP fell Monday when the Bank of England (BoE) committed to taking all steps needed to support the economic fallout from the coronavirus.
The European Central Bank (ECB) has since joined the global central bank coordination. ECB President Christine Lagarde's tone this morning reflected her global counterparts: her central bank is ready to take "appropriate and targeted measures, as necessary and commensurate with the underlying risk."
The outlook here is hinged on the magnitude of central bank coordination. The ECB has until now been reluctant to cut rates deeper into negative territory. If Lagarde's Australian and Canadian counterparts cut less than markets are wanting this week, it seems likely the ECB would follow suit and underdeliver. This scenario would likely see the euro rally.
On the other hand, I would expect an emergency cut from the Fed this week, which is possible on Wednesday, would raise urgency and encourage serious policy measures across the board.
Overnight the Market/BME Germany manufacturing PMI printed at 48.0, an uptick from the expected and prior number 47.8, continuing its modest trend higher. German manufacturing remains in contraction, but the virus fallout hasn't yet stopped the uptrend. Meanwhile Germany is tightening controls to contain the virus. An outbreak in and disruption of Europe's largest economy would be terrible news for the euro.
During last week's sell-off, the biggest since the GFC, the euro drew some modest haven bids, especially as euro-funded trades were unwound.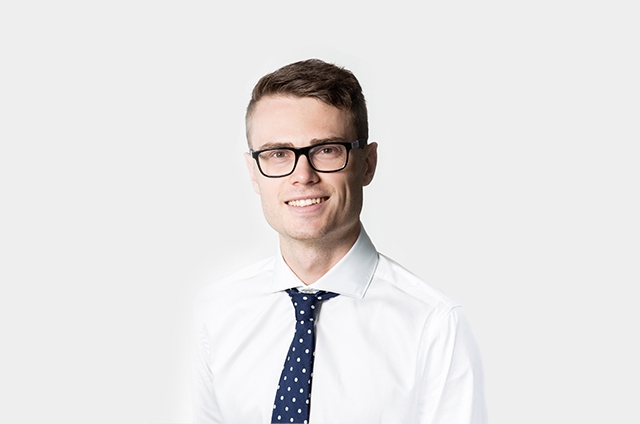 Sean MacLean
Research Strategist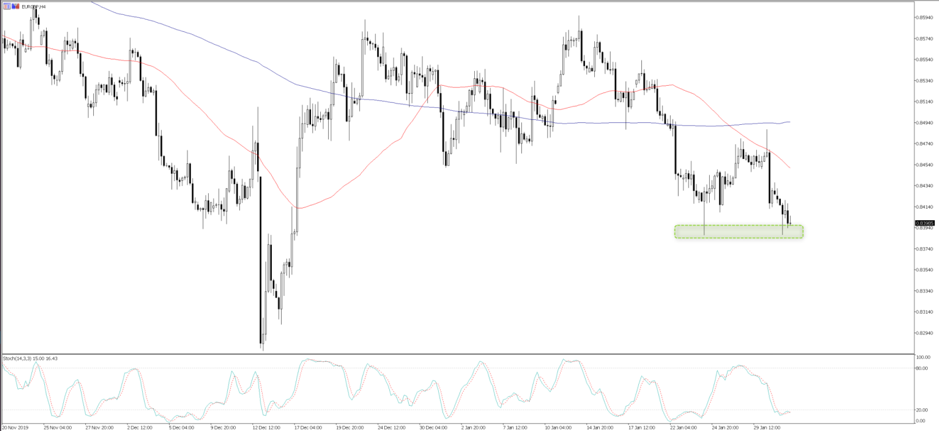 Chart of the day: Trade idea – short EURGBP
We suggested long positions in GBPCAD at 1.7240 on (23 January) on Telegram (sign up here), with a target of 1.7500.
With spot trading just shy of the 1.7500 target and with Russia and OPEC likely to offer support to the crude market, we look to take profits and roll GBP long exposures into short EURGBP positions at 0.8424.
With Boris Johnson due to speak tonight, and the risks favouring further GBP strength, selling EURGBP makes sense even if GBP positioning is modestly stretched. Tactically, it is prudent to initiate with a small position size, with stops at 0.8480, and subsequently looking to add further short positions on a close through the double bottom of 0.8378.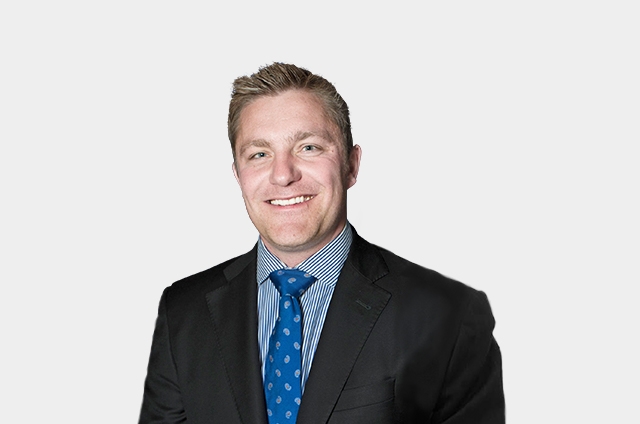 Chris Weston
Head of Research