View pairs and instruments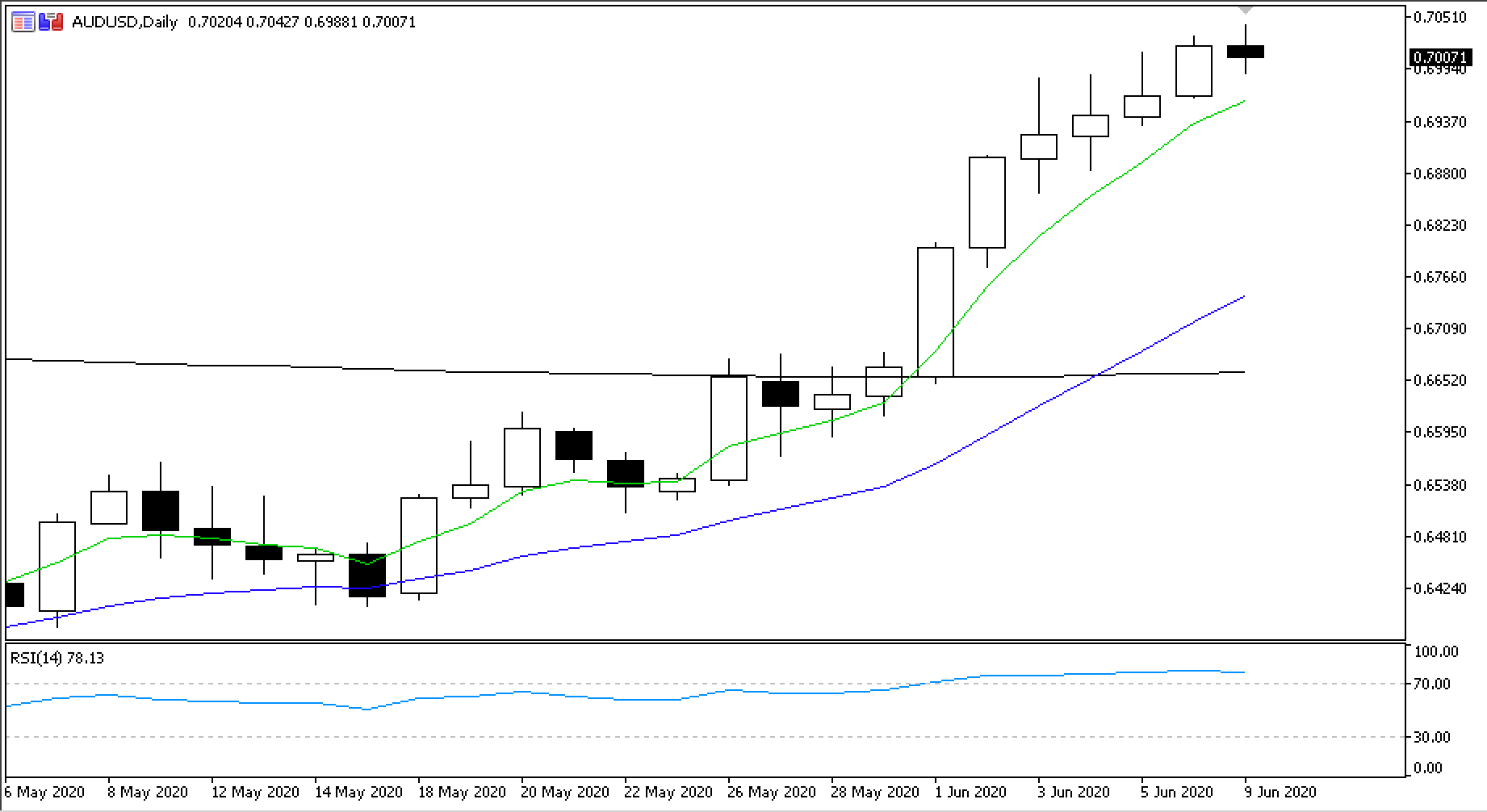 Can AUDUSD defend the 0.70 handle?
The risk FX rally has powered the Australian dollar to an impressive 70 US cents. AUDUSD hasn't traded at 0.7000 since January 2, and earlier in the session the pair briefly pushed to its highest level since July 2019.
So why is the AUD performing so strongly and can this huge technical level hold?
Risk FX has been flying for a couple of weeks now as the US dollar unwinds and global economies come out of lockdown. The Aussie dollar has recently tended to move in the same direction as the S&P 500, so the currency has been traded as a global risk proxy. As stocks fly and risk FX outperforms, the AUD has been one of the greatest beneficiaries.
Iron ore, one of Australia's biggest exports, has soared past 100 USD per tonne as demand, particularly from China, ramps up. But the AUD is set to benefit from misfortunes elsewhere. COVID-19 has hit Brazil, a major iron ore exporter like Australia, with particular cruelty. Outbreaks across the country have seen mining giant Vale SA ordered to close three mines, or 12% of its output.
The 0.70 handle is a huge technical levels and the bulls will want to defend it, meanwhile the bears will be ready to short the currency after three strong weekly gains. So where to from here? Well a lot of the AUD's gains have come from USD weakness. I would expect the USD to remain subdued unless we see either a renewed wave of risk aversion or US leadership in the virus recovery. Obviously the latter isn't happening, and the obvious case for renewed risk aversion is if we were to see the frightening prospect of a second wave of infections, when stocks and risk FX like the AUD would retreat.
Don't forget that a lot of uncertainty persists and global virus cases are still rising, so AUD bulls will face resistance if they try take this pair higher. I'll be eying opportunities to buy dips as the bulls and bears battle around this 0.70 handle.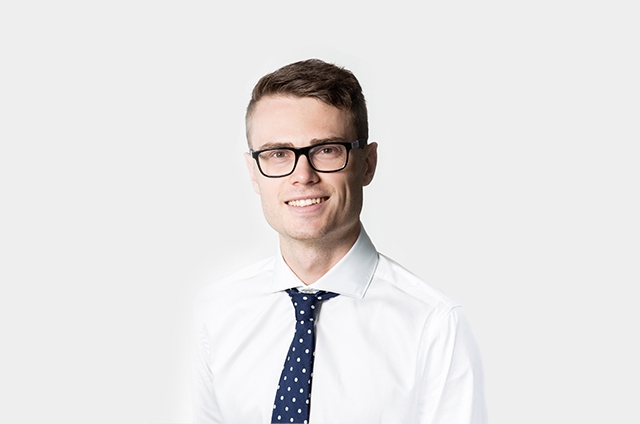 Sean MacLean
Research Strategist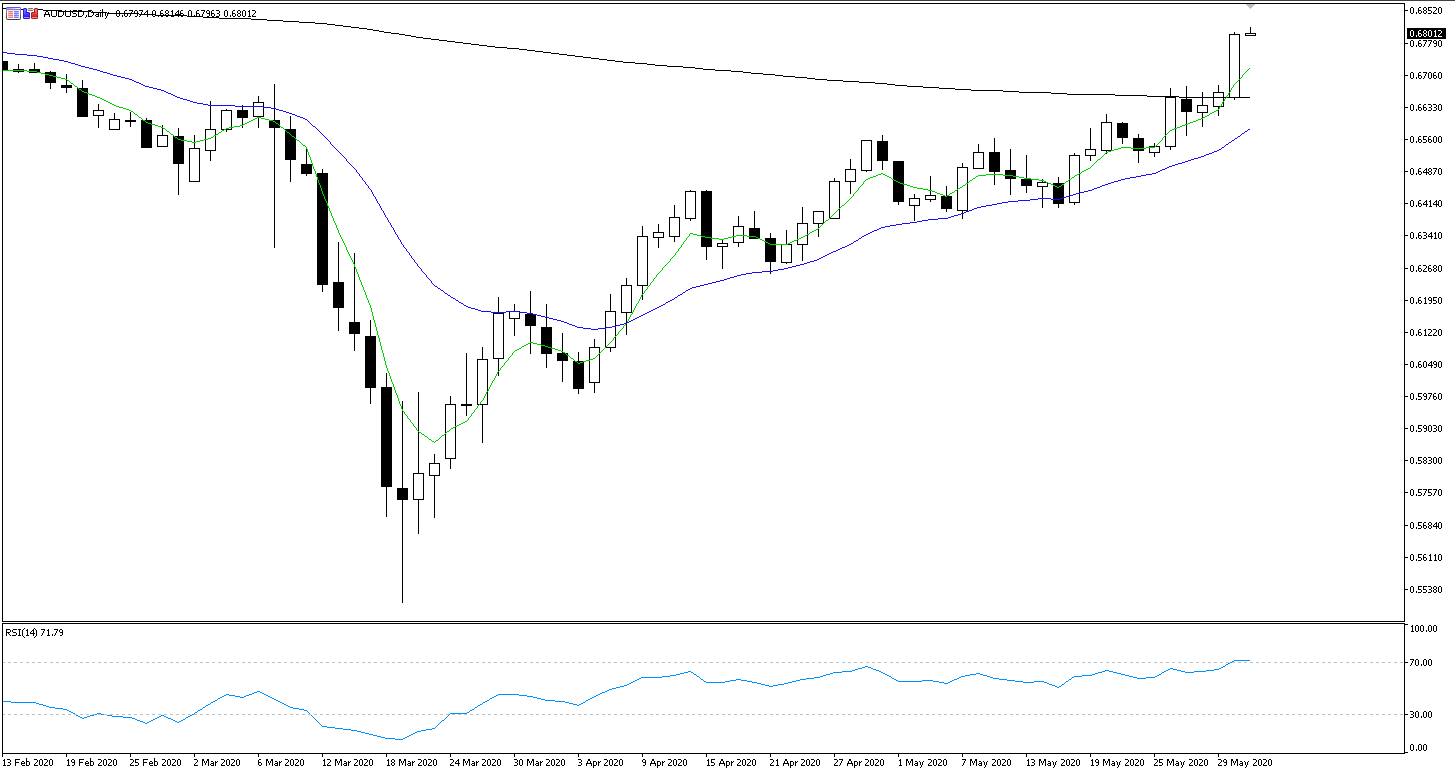 AUD continues its rally, USD sells off
Risk FX is flying and we saw the Australian dollar close 2% higher on the day yesterday. AUDUSD advanced from its Monday open at 0.6655 to hit the 0.6800 handle just after rollover this morning, a level not seen since January.

AUDUSD opened firmly on its 200-day MA yesterday and charged above 68 US cents per Australian dollar this morning. The sharp gains in high beta currencies like the AUD come as the world sees a US dollar outflow as global economies reopen - the USD weakness exaggerated by unrest in the US.
Although the AUD is not in the basket of currencies that measures the US dollar index, the USDX also opened yesterday near its 200-day MA and was offered lower from there.
The RBA meet at 14:30 AEST today - will they talk about negative rates? The central bank has been fairly upbeat recently, pushing back against negative rates, and not making any bond purchases in almost four weeks. Governor Lowe has recently pointed to the possibility of a smaller economic downturn than previously expected. Yet there's a growing conversation that the RBA could implement negative rates within the next 12 months. If the RBA leave the possibility on the table today, that's modestly AUD-negative.


But the AUD (black line) continues to move in the same direction as the S&P 500 (blue line), both reflecting the increasing risk appetite despite a poor global economic outlook.
S&P 500 (US500) futures slipped this morning as President Trump announced the military will be deployed if states cannot quell protests, and the Aussie dollar followed. But if equity markets can largely shrug off a pandemic, national lockdowns, and a record spike in unemployment, this AUD rally might have legs yet.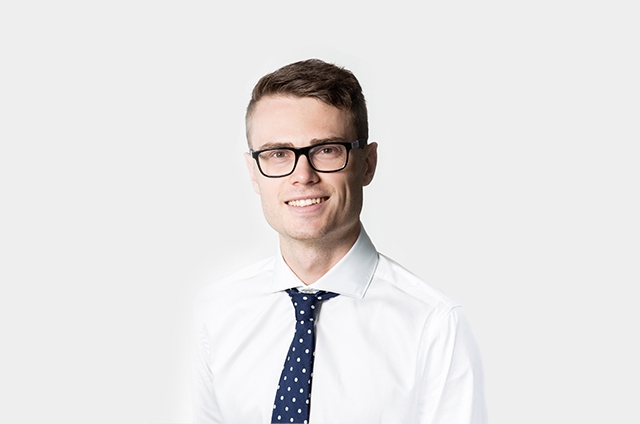 Sean MacLean
Research Strategist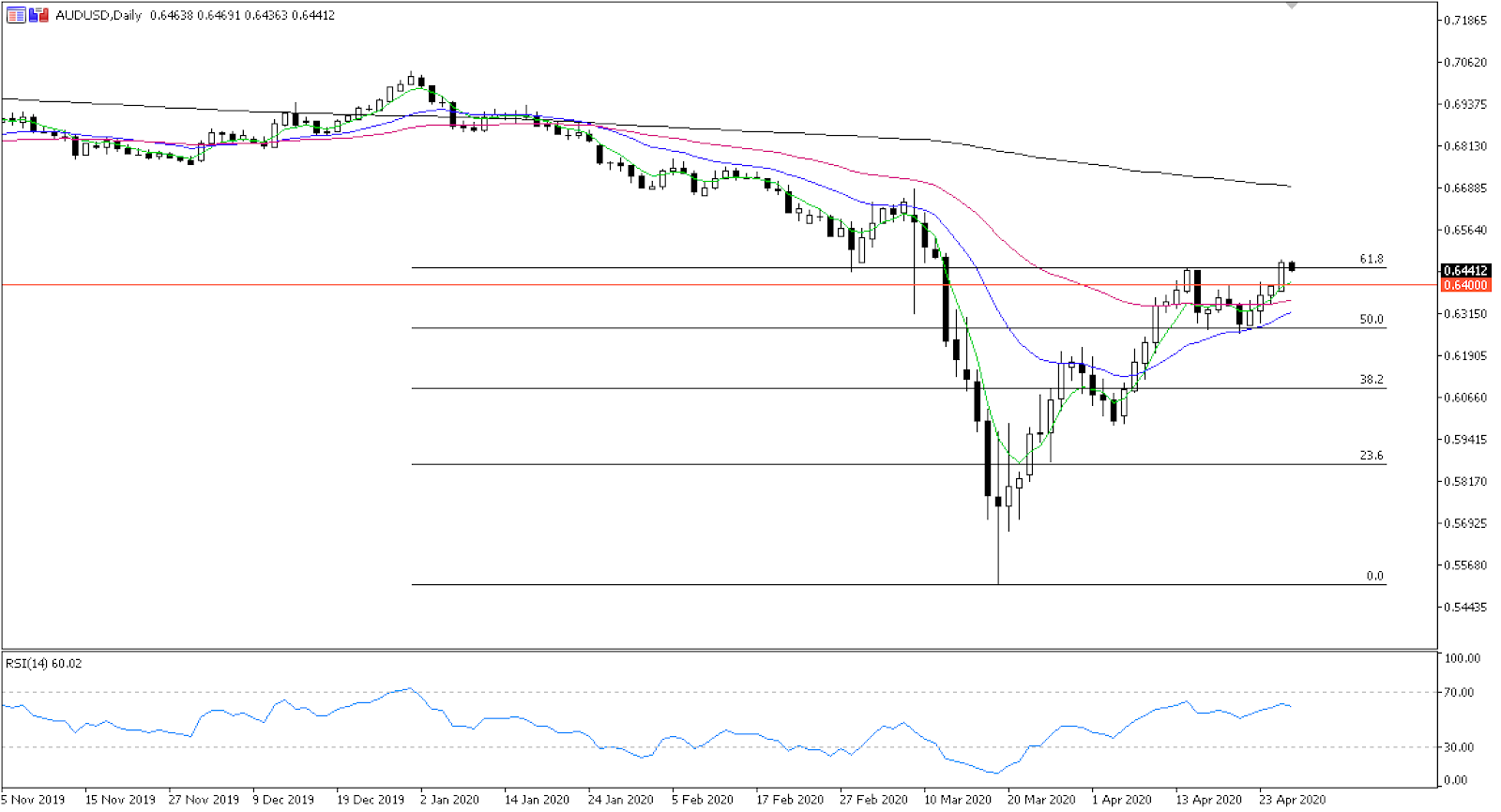 Chart of the Day: AUDUSD holds above 64 US cents in risk-on rally
The Australian dollar is riding the waves of a risk-in mood, making a strong 1.37% gain against the USD yesterday and closing above 64 US cents. The soaring AUD mirrors yesterday's rally in US equities but also reflects that markets see a quicker economic recovery for Australia with lockdown restrictions due to ease soon.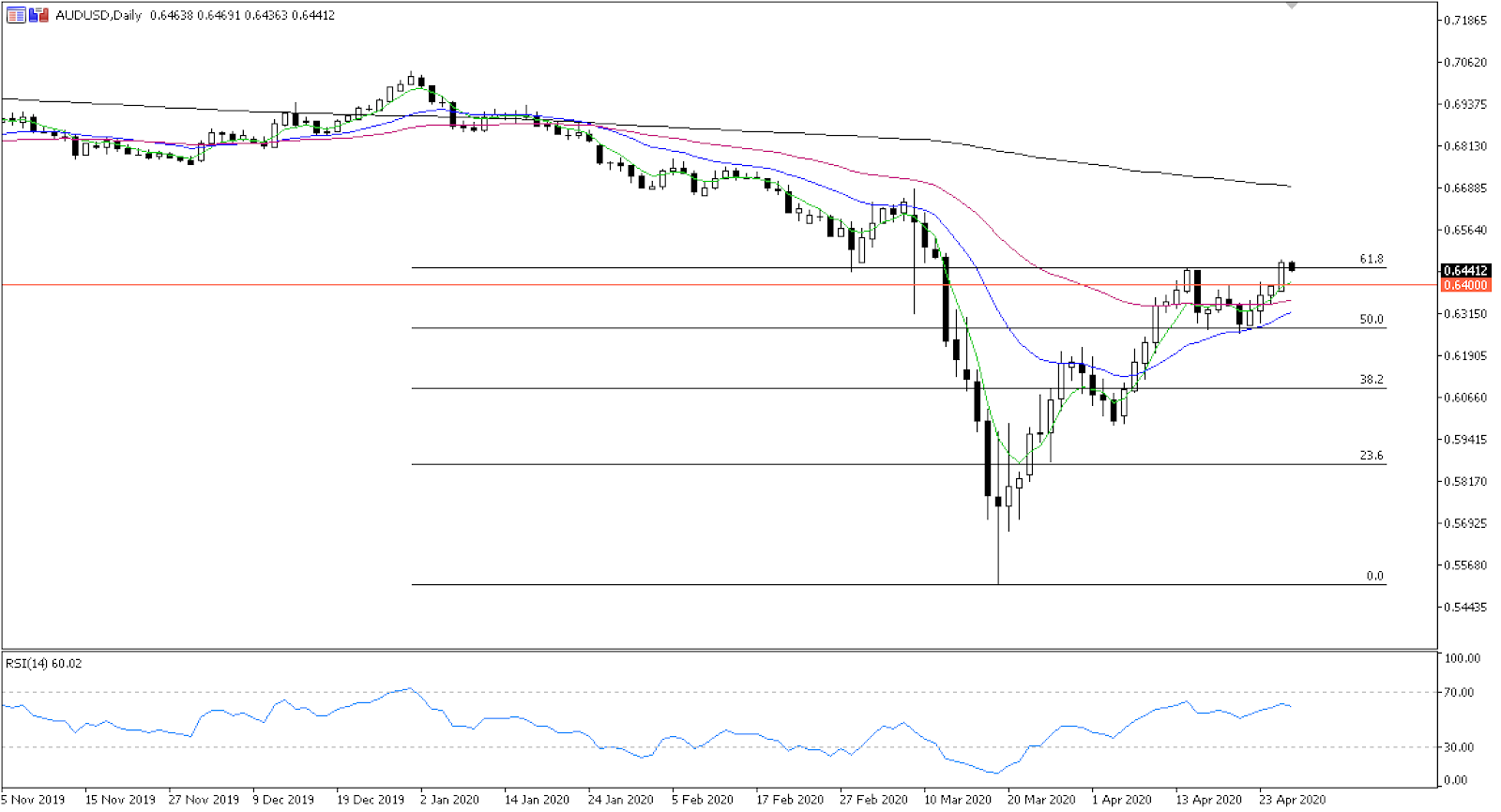 "Daily chart: The AUD is staging a strong recovery, with AUDUSD closing above the 61.8% Fib retracement of the December to March sell-off. Price holds above the 5 EMA (green), 20 EMA (blue), and 50 EMA (purple), and below the 200 MA (black)."
AUDUSD closed at a multi-week high yesterday, buoyed by a rally in US equities. AUDUSD failed to hold above 64 US cents two weeks ago, but a lot has changed since then. Australian states are gradually easing restrictions, including the biggest state NSW, building optimism that a domestic economic recovery could come sooner than expected.
Yesterday's close came above the 61.8% Fib retracement of the December high to March low. If it can close above this level again today, it'll be a good sign the Aussie bulls have taken control. I'm also watching the 0.6400 handle and the 5-day EMA (green), currently at 0.64096, a natural support level. Beyond that, AUDUSD was well supported by the 20-day EMA (blue) last week.
The AUD will remain sensitive to risk sentiment. Just as a risk-on mood has driven this rally, a shift to risk-off if global turmoil lifts will drive the Aussie lower.
AUD minor pairs
EURAUD: The pair continues to look bearish as the AUD stages a strong recovery and the EUR makes some choppy sideways movements. EURAUD 50-day and 20-day EMA crossed over yesterday.
GBPAUD: This pair is at a pivotal point: having found support at 1.9195. If the AUD bulls can close below here, there should be room for more GBPAUD downside. Australia is easing pandemic restrictions as the curve flattens while the UK continues to battle high case numbers.
AUDNZD: The kiwi is rising too, but not as fast as the AUD. AUDNZD looks bullish and I'm eyeing a move into 1.0800, a level last seen in November. New Zealand and states in Australia are beginning to slowly lift lockdown restrictions.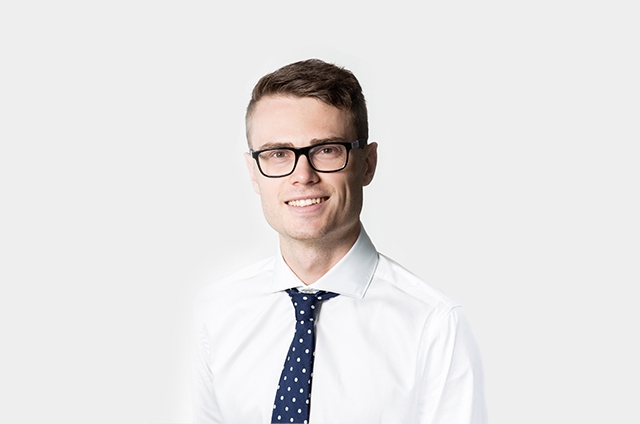 Sean MacLean
Research Strategist