Chart of the day: Gold sends bullish signals as USD squeeze eases
Gold has finally received a bid up and $1600 is back in play after a steep sell-off caused by a flight to cash. So now that gold's found its feet again, here's why the precious metal is trading higher and the outlook from here.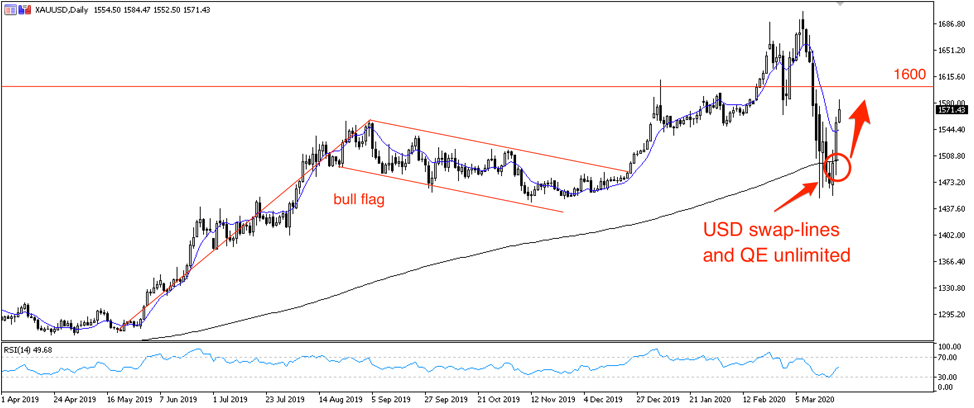 As recently as 9 March, gold (XAUUSD) was trading as high as 1700 on initial CoVID-19 worries. But in the next nine trading days, an artificial sell-off amid a USD shortage saw the precious metal fall below the 1500 handle to a close at 1472 last Thursday. Yet gold's fortunes might be turning this week as the USD squeeze eases. Monday's daily candle shows an appreciation of 3.3% in USD terms and 3.1% in AUD terms. Gold is moving higher again and we're eyeing a move to the 1600 level and beyond.
An artificial sell-off
Gold's role as a safe haven sees prices rise when markets are risk averse - except when they don't.
As the virus wreaked havoc in China throughout January and showed signs of spreading into other countries during February, gold was steadily appreciating as a hedge against risk.
But then pressure mounted on investors across the world when US and global equities started to sell-off as reality kicked in that the virus would soon cause global lockdowns and economic standstills. The world has built up a considerable exposure to US equities and USD denominated debt, so in order to recalibrate these positions, through margin calls and covering equity losses, there's been a scramble for US dollars. As demand ramped up, so did the USD value.
Now you would expect such risk aversion to cause gold to rally - but the problem is, countries around the world have built up massive exposure to US equities and USD denominated debt. This is considerably concerning for emerging markets where piles of USD debt have become far more expensive. Then consider margin calls and covering equity losses, and you can see why USD demand ramped up in order to recalibrate positions.
At the same time, the US 5yr Treasury inflation-adjusted real yield spiked from -84bp to 67bp in just seven days. This only exaggerated gold's setback. In a flight to safety, US treasuries suddenly offered a positive yield, whereas gold offers no yield.
This caused a dollar shortage, so the USD strengthened at the expense of pretty much everything. That included gold. As investors liquidated gold holdings in the mad dash to USD cash, gold prices fell sharply. In a way, gold served its exact purpose as a safe haven. It provided cash and relief when markets needed it most.
The USD squeeze has eased since the Federal Reserve improved dollar liquidity on Friday by establishing USD swap lines with major central banks. Volatility has also come off its highs: the VIX is at 61 and while that's still a high level, it's 20 vols lower than last week. This is all supportive for gold, which has rallied since Friday and we're eyeing a move to 1600 USD.

Similarities with the GFC
Gold initially sold off during the 2008 Global Financial Crisis (GFC). The story was similar: investors desperately needed US dollars to recalibrate positions, so all kinds of positions, including gold, were liquidated.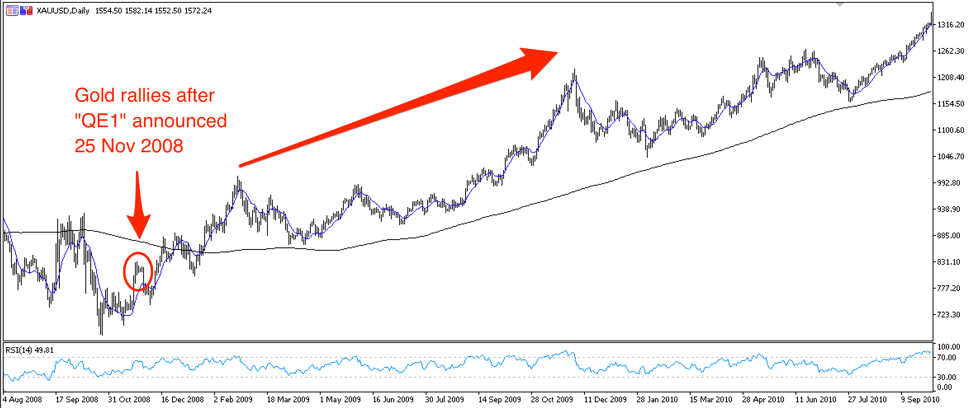 Also similarly to 2008, the Federal Reserve slashed interest rates to near zero. A low-rate world is supportive for gold, as cash yields negligible return and investors look for alternative places to store money. After the GFC, gold rallied to an all time high in 2011 while the Fed funds rate was held at the historically low level until 2015.
This time, the Fed has gone above and beyond 2008 measures in the ultimate battle to save jobs and small business as the global economy stalls.
Fed policy should boost gold
The Federal Reserve made an unprecedented move yesterday, announcing its asset purchasing program, or quantitative easing (QE) will have no limits in the bank's efforts to support the economy.
Among a raft of new measures, the Fed will purchase corporate debt for the first time. This will be in the form of investment-grade corporate bonds and corporate bond ETFs. High-yield corporate debt is not included in the program.
This is a game-changing move for the Fed, although interestingly the Bank of Japan has been purchasing ETFs (even equity ETFs) for years. The Fed has no plans to purchase equities, for now at least.
As part of the measures, the Fed will ramp up its existing purchases of Treasuries and mortgage-backed securities (MBS).
Not only has Fed policy boosted gold, but so has concern around Congress' failure to approve a fiscal support package worth almost two trillion USD. Democrats have blocked the bill, saying it doesn't go far enough to protect individual workers. The US - and global - economy needs this to be passed sooner rather than later.
Gold has a choppy road ahead, especially while volatility remains high. If volatility continues to cool, which you can monitor through the VIX index with Pepperstone, it will be a sign that markets have finally found support in the Fed's QE measures. When that happens, gold bulls will have a clearer run to take this higher.
Ready to trade?
It's quick and easy to get started – even with a small deposit. Apply in minutes with our simple application process.
Pepperstone doesn't represent that the material provided here is accurate, current or complete, and therefore shouldn't be relied upon as such. The information provided here, whether from a third party or not, isn't to be considered as a recommendation; or an offer to buy or sell; or the solicitation of an offer to buy or sell any security, financial product or instrument; or to participate in any particular trading strategy. We advise any readers of this content to seek their own advice. Without the approval of Pepperstone, reproduction or redistribution of this information isn't permitted.